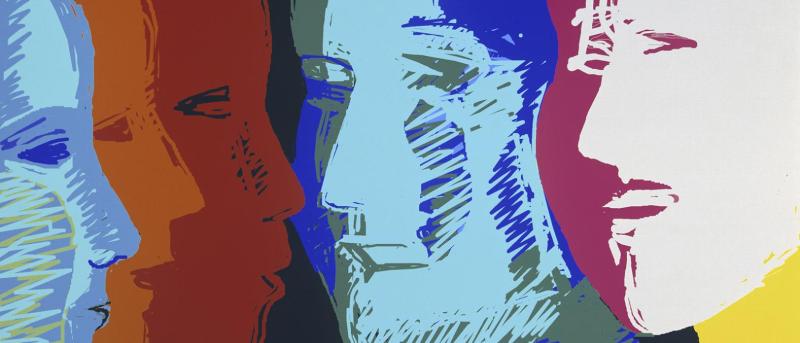 Know Thyself, Public Health
The Mailman School Reflects on Power and Privilege
The third module of the Mailman School's Self, Social, and Global Awareness (SSGA) training was unveiled last week. More than 400 first-year Master's students participated in conversations inspired by "The Danger of a Single Story," a 2009 TED talk by novelist Chimamanda Ngozi Adichie.
In the popular video, Adichie, who was born in Nigeria, describes her first encounter with a college roommate in the United States. The roommate's narrow perspective about Africa was the result of relying on a single narrative to represent an entire continent, leading to more than just hurt feelings: as the training session made clear, this "single narrative" is a roadblock to public health.
"What Adichie brings to the table is appreciation for the extent to which we all carry a single story about different identity groups," said Amy Fairchild, professor of Sociomedical Sciences and director of Integration of Science and Practice, part of the MPH core. "We're hoping to increase people's appreciation of this mindset, and to challenge ourselves to identify the stories that have become the basis for our own assumptions."
Introduced in tandem with the Master's in Public Health core curriculum in Fall 2012, SSGA is designed to heighten self-awareness about the power and privileges that exist based on identity, broadly defined to include gender, race, age, sexual orientation, and religion, among other categories, and to demonstrate how the very presence of power and privilege has an effect on population health.
National attention to such disparities following the deaths of Michael Brown, Eric Garner, and others over the last several months inspired action on behalf of many Mailman School students, who convened an emergency forum on racism in December. While the School's administration has worked with faculty and students to address these issues for many years, students, catalyzed by current events, convened to demand public health find a more influential role in this conversation.
In the recent SSGA session, "The Danger of a Single Story," students listened as Adichie recounted examples of the distortion that results from the application of a single narrative about Africa to Nigeria's culture, geography, and language. Adichie also discusses some of the "single stories" she once held about others, and her discovery that they, too, were biased and incomplete.  The talk resonated with many students, who were asked to consider the role of power in the creation and dissemination of stories.
For Greg Freyer, associate professor of Environmental Health Sciences, SSGA is helping to overcome a chronic public health problem.  
"We fall short when we address health issues that disproportionately affect one particular group," said Freyer. "Public health people are accustomed to disparities in disease, or treatment access, or outcomes, but we don't discuss the bigger context. If we just leave the data hanging there and you're a student who is part of the group in question, how does that make you feel?"
Only the Beginning
Linda Cushman, senior associate dean of Field Practice and Education and professor of Population and Family Health, and Marlyn Delva, senior associate dean of Education and Student Affairs and lecturer in Epidemiology, who co-created the program in consultation with a team of experts in diversity training, understood that an exploration of identity-based power and privilege was imperative to public health education.
The SSGA series is conceptualized as only the beginning of what School leaders envision as an larger, integrated component of an MPH curriculum that reflects the School's mission not only to be aware of and understand social inequities, but to develop strategies to eliminate them. In fact, with the support of Dean Linda P. Fried, all Mailman School faculty will be expected to complete the first module of SSGA training by the end of 2017—a mandate that is being addressed with additional resources and a fuller training schedule.
In the coming months, other initiatives are being introduced at the Mailman School to ensure a learning climate where all members of the community are conscious of ways their privileges inform their perception of others and others' perception of them. Dean Fried convened a task force of students, faculty, and staff to build a new function within the Dean's Office focused on diversity and inclusion. Among its charges is determining how to articulate academic and co-curricular agendas that institutionalize that learning environment.
Jill Humphrey, a first-year student in Population and Family Health, sees SSGA and other efforts that address the School climate as a meaningful first step towards integrating issues of power and privilege into the curriculum and day-to-day experience of being part of the Mailman community.
 
"We need to recognize that public health practitioners cannot disregard their own emotions or hide behind data," she said. "I came to Columbia because it is dedicated to research that gets turned into action. That is why these conversations must continue—even when they're personal—because when public health goes out into the field, we have power and responsibility."