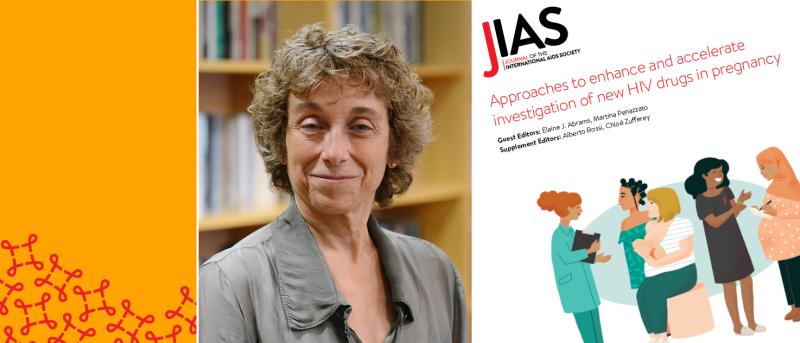 ICAP Senior Research Director Guest-Edits AIDS Journal Special Issue
Elaine Abrams, MD, senior research director of ICAP and professor of epidemiology at Columbia University Mailman School of Public Health, is a guest editor of a new Journal of International AIDS Society publication entitled "Approaches to Enhance and Accelerate Investigation of New HIV Drugs in Pregnancy," together with Martina Penazzato, pediatric HIV lead at World Health Organization.  The publication focuses on the inclusion of pregnant women in HIV clinical trials. Abrams and Jennifer Zech, MSc, senior project officer for ICAP, provided valuable support to the publication, which offers key insights and new data to inform practices that enhance women's health choices.
A global thought leader in the prevention and treatment of HIV infection and 
associated infectious diseases in pregnant women, children, and families, Abrams has worked in perinatal and pediatric HIV prevention and treatment for over 30 years
 as a clinician, researcher, and public health practitioner. She has extensive experience in the design, implementation, and analysis of antiretroviral treatment studies of pregnant/
postpartum women, infants, and children. 

A professor of pediatrics at Columbia University Irving Medical Center in addition to being a professor of epidemiology at Columbia the Mailman School, she was a founding member of ICAP at Columbia University.
As part of ICAP's core leadership team, Abrams supports ICAP's global research with a growing portfolio of studies of HIV prevention, care, and treatment. Her expertise guides both U.S. and global HIV policy and implementation planning through many avenues such as scientific leadership in the NIH-funded IMPAACT network and the WHO Pediatric Antiretroviral Working Group. During her tenure as co-chair of WHO's HIV clinical guidelines group, multiple transformative innovations were introduced facilitating an accelerated global scale-up of HIV treatment to adults and children living with HIV. 
Abrams will participate in the official launch of the supplement. at AIDS 2022 in Montreal on Friday, July 29, 2022. The hybrid event will take place at 2:45 ET.
In addition, Wafaa El-Sadr, MD, MPH, MPA, ICAP's global director will participate in a pre-conference session on Differentiated Service Delivery for HIV Treatment in 2022 and a global village session entitled: Beyond Addictophobia: Addressing Injection Risks and Drug-Linked Sexual Behaviors in HIV Prevention Science and Care.
 
See the full ICAP schedule for AIDS 2022.