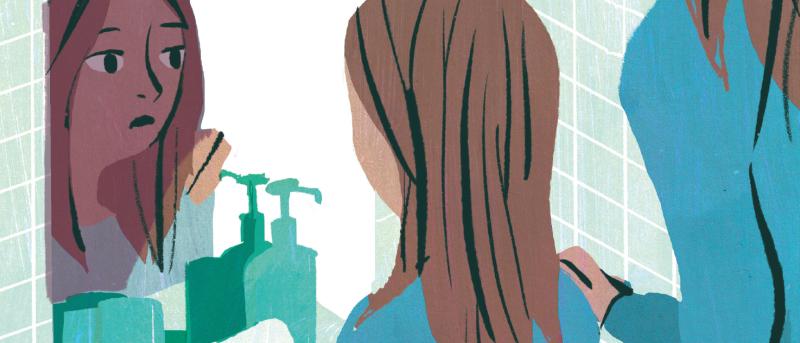 Growing Pains
How Does Puberty Affect Breast Cancer Risk?
Hand sanitizers, disinfectant wipes, bleach—these mainstays of American domesticity affect how children's immune systems develop. That's the idea behind the hygiene hypothesis: Kids today have high allergy rates because their immune systems have been insufficiently primed by early exposure to germs.
Jasmine McDonald, PhD, an assistant professor of Epidemiology, theorizes that hygiene might be fueling another epidemic: breast cancer. 
The human immune system evolved to protect against life-threatening diseases so we could survive to reproduce, she explains. And for most of human history, identifying and combatting pathogens—whether measles, mumps, and other contagions for which vaccines are now available, or the millions of microbes in our environment obliterated by modern cleaning products—was a singularly energy-intensive process. 
"In Westernized countries, the immune system isn't being fully primed early in life," says McDonald. "Since growth can be prioritized over fighting infections early on, young children's bodies may shift into puberty earlier."
Scientists already know that the sooner a person begins menstruating or developing breasts, the greater her risk for breast cancer. And girls in Western countries are hitting those milestones at progressively earlier ages. Meanwhile, breast cancer and other cancer rates are rising globally, and scientists don't understand precisely how early-life factors influence that trend. McDonald wants to know what role environmental factors play.
That's where LEGACY comes in. LEGACY (Lessons in Epidemiology and Genetics of Adult Cancer from Youth) is a cohort of 1,040 American and Canadian girls aged 6 to 13 and their mothers. Half have a family history of breast cancer. The study's investigators collect blood, urine, and saliva; measure breast development and body mass index; and administer behavioral questionnaires to the participants. McDonald is using data from LEGACY to investigate the association between common childhood viruses and the timing of pubertal outcomes—breast development, appearance of pubic hair, and menstruation. "Going forward," she says, "I want to look beyond the common viruses to include the entire virome." 
LEGACY was established in 2011 by Professor of Epidemiology Mary Beth Terry, PhD '99, to investigate the synergy of nature and nurture in the decades preceding a cancer diagnosis. "It came about through the merging of two lines of research—genetics and environmental factors," says Terry, who used a $3 million grant from the National Cancer Institute to create the cohort and now serves as its principal investigator, examining how estrogen- promoting chemicals in beauty products, air pollution, viruses, diet, and the like affect female physiology. "We knew a lot about the genetic heterogeneity of breast cancer, but we also knew that early life matters. With this cohort, we are measuring how breast tissue changes during adolescence and if environmental exposures during that window can help us understand the disease."
The emphasis on puberty that led to legacy arose after Terry became principal investigator of the Breast Cancer Family Registry (BCFR), which follows people at increased risk of breast and ovarian cancer due to family history or genetic mutations. While BCFR investigators, as a whole, take a variety of perspectives, Terry has a particular emphasis on environmental triggers. In 2017, the British Journal of Cancer published her finding that even among women with high-risk breast cancer genes, exposure to moderate or high levels of PAH, a chemical byproduct of combustion, increases their risk of developing the disease.
Pollutants and pathogens aren't the only environmental factors under the microscope. Lauren Houghton, PhD, assistant professor of Epidemiology, hypothesizes that stress may influence pubertal timing and breast cancer risk. Her current project extends field research she did in London as a doctoral student. During an after-school program, she noticed that among girls from Bangladesh, more recent immigrants were ostracized by their peers. "They were referred to as 'freshies,'" she says, "a derogatory term meaning 'fresh arrival.'"
Stress can increase certain hormone levels, including androgens, which are activated for the first time during a pubertal developmental period called adrenarche and have been linked to breast cancer. Houghton hypothesized that the more recent immigrants were stressed by the hostility of their peers, with higher androgen levels as a result. "First-generation migrants reached adrenarche two years earlier than second-generation migrants," says Houghton, who sees the finding as a clue that might help to explain why women who migrate from countries with a low incidence of breast cancer to those with a high incidence acquire the rates of their new home.
Houghton is now examining androgen levels among LEGACY participants. She wonders whether girls who have a first-degree relative with breast cancer have higher androgen levels. "You can imagine," she says, "that it would be pretty stressful for a young girl to have a mother diagnosed with breast cancer."
The newest Columbia Mailman School-based registry investigates breast tissue density, one of the strongest independent risk factors for breast cancer. In 2016, Parisa Tehranifar, DrPH '04, associate professor of Epidemiology, was awarded a $2.78 million grant from the National Institute on Minority Health and Health Disparities to launch the New York Mammographic Density Study. Known as NY MaDE, the registry examines what minority women understand about dense breast tissue, a finding now included, by law, in post-mammogram reports in at least 30 states, and probes whether demographic background affects the harms and benefits people realize from the new information. 
Tehranifar will follow 1,000 Washington Heights residents for a year after their mammograms, collecting clinical and biological data, as well as psychosocial insights from qualitative interviews. "Because people have different amounts of resources, the benefits of new knowledge or new interventions are not distributed equally," Tehranifar says. "We need to know if breast density information is being used differently depending on education level, health literacy, access to coverage, or income, so that we can possibly prevent disparities in screening and early detection from developing."
Survivors Unite
Breast cancer investigators don't have to dig deep to uncover profound disparities within and among racial and socio-economic groups. While black women, for example, are slightly less likely to develop breast cancer, their risk of dying from the disease is substantially higher than that of white women. 
In 1990, a group of black women in Arkansas partnered with cancer researchers to develop a lay health adviser program to bridge racial and cultural divides with healthcare providers and promote breast and cervical cancer screening among black women. Today, the Witness Project offers programs nationwide, with more than 400 advisers serving 15,000 women a year. 
In her research, Assistant Professor of Sociomedical Sciences Rachel Shelton, ScD, MPH, seeks to identify the social and contextual factors that influence disparities in cancer prevention and screening among low-income African American and Hispanic populations, including the role of social networks, social support, and experiences of discrimination and mistrust. For the past decade, she's partnered with the Witness Project, seeking out features that could be replicated by others intent on understanding and addressing disparities. "The most successful sites are those with a strong partnership with an academic or cancer center," says Shelton, whose analyses of the program have appeared in Translational Behavioral Medicine and in Implementation Science. "They had more organizational support and structure, and they were more likely to pay the advisers a stipend."
Shelton also seeks to understand the lay health advisers themselves. She has found that many first chose to volunteer because of a personal connection to cancer and later came to appreciate the support and friendships they had made. "All of them ended up staying in the program because of the social networks they built through this sisterhood of other women," she says.
This past summer, Shelton began a new phase of her research. Using a four-year, $785,000 grant from the American Cancer Society, she'll study Witness Project program sites across the country. "There's a huge gap in having evidence-based programs in low-resource, 'real-world' community settings," she says. "I want to understand how these programs can be implemented and sustained over time in these settings that actually need them."
---
Nancy Averett writes about science and the environment from Cincinnati. Her work has been published in Yale e360, Pacific Standard, Audubon, Discover, and others. Illustrations by A. Richard Allen.