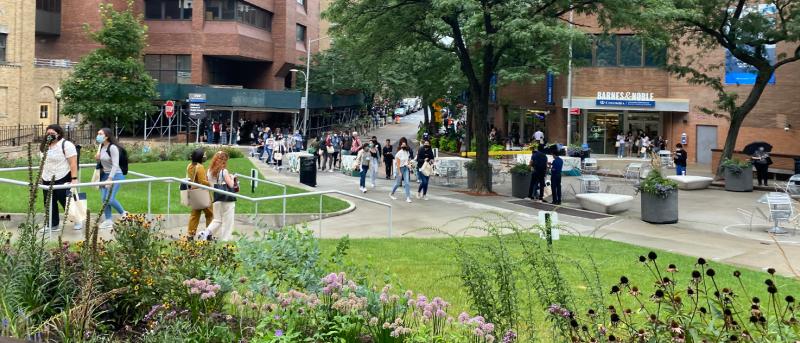 Fall Semester Begins as Students Return for In-Person Learning
Nearly a year and a half after the COVID-19 pandemic necessitated remote learning, students returned to the Columbia Mailman School campus to pursue public health degrees together, in person. The incoming "Centennial Class," whose studies coincide with celebrations of the School's first 100 years, comprises more than 800 students—the largest class ever, including a record number of master's students selected from a record number of applications. They are joined by more than 700 continuing students, most of whom are seeing their classmates in person for the first time.
"You chose the right field and the most important field, and this is the right time, and we have built over the years the right place," Dean Linda P. Fried said in welcoming remarks that emphasized the necessity of collective action. Dean Fried said the ongoing pandemic provides a stark example of how public health depends on shared goals, as well as a broad understanding of population health as a public good. "Collective action means we're all in this together. We cannot accomplish [public health solutions] unless we lead together, unless we act together."
Beginning this fall and continuing next year, the School will be celebrating its centennial with special events, publications, and other opportunities to commemorate 100 years of public health progress. Celebrations officially kick off on September 9. Another series of events offered through the School's FORWARD initiative will focus on antiracism and public health practice, as well as global and domestic perspectives on the history of racism and white supremacy. Other fall events will focus on the links between climate change and food and healthy longevity.
As in-person learning returns, protocols are in place to protect everyone from COVID-19. Like faculty and staff, students are required to be vaccinated and wear face coverings indoors. The rules are in keeping with University policy, guided by Columbia Mailman School experts, including Dean Fried and Wafaa El-Sadr.
On the first day of Orientation, Dean Fried, Vice Dean for Education Michael Joseph, and Associate Dean for Community and Minority Affairs Bob Fullilove welcomed new students and introduced broad concepts of public health, as well as the School's commitment to antiracism and community partnership. The next day, students took part in Self, Social, and Global-Awareness, a group exercise that gives participants the knowledge and skills to create an inclusive environment. Later in the week, students participated in faculty lectures on timely topics in public health, such as aging, infectious disease, reproductive health, menstruation, menthol cigarettes, national health policy, spatial inequity, and new research tools to understand race and measure multiple environmental exposures. They also attended mini-seminars with advice on networking and building a resume, opportunities for engagement, self-care, and financial literacy. Orientation, which largely took place online, was organized by the Office of Student Affairs, led by Sandra Bernal Garcia, Dean of Students.
The incoming class comprises students from 42 states and 43 countries, and they bring diverse backgrounds, interests, and aspirations. Many choose to pursue a public health career based on their experience of the pandemic.
A native of Yonkers, New York, Juan Cambeiro, brings expertise in quantitative forecasting of COVID-19. Recently, he won first place in a coronavirus forecasting challenge. As an undergraduate, he participated in the BEST (Biostatistics Epidemiology Summer Training) program, an experience that left a "profoundly favorable" impression of Columbia Mailman. While he has only just started work toward an MPH in epidemiology, Cambeiro already has his sights on an eventual PhD and a career in forecasting infectious diseases with pandemic potential. "The COVID-19 pandemic was absolutely a factor in choosing to pursue a public health degree since it has demonstrated the importance of public health in safeguarding humanity's future," he says.