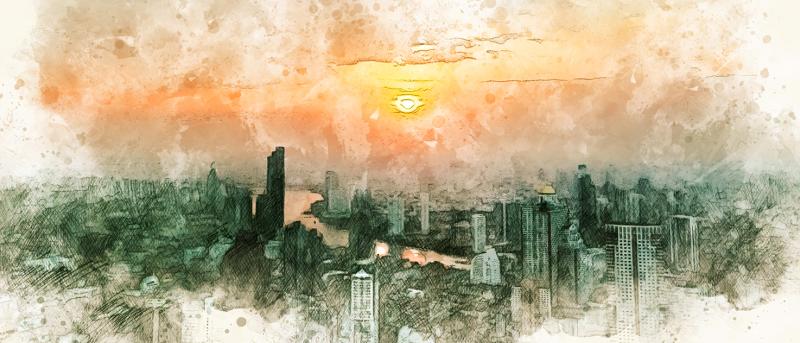 Faculty Panel: Climate Crisis Is Both a Threat and an Opportunity
Last fall, the UN Intergovernmental Panel on Climate Change report called on the world to take urgent action to curb carbon emissions and prepare for increasingly severe impacts of elevated concentrations of greenhouse gas. In the intervening months, there have been near-daily reminders of these impacts—fires, floods, crops lost, communities displaced—leading many to label the situation a global emergency.
In early June, the 2019 Columbia Mailman Alumni Summit brought together five faculty whose research portfolios involves the intersection of climate change and health to share their thoughts on the ongoing crisis, including how taking action presents an unprecedented opportunity to advance human health and well-being. (Watch the full discussion below.) For more than a decade, the Columbia Mailman School has been a leader in research and education in this area, establishing the first program on Climate and Health in 2008 and the Global Consortium on Climate and Health Education in 2017.
Moderator Jeffrey Shaman, director of the Climate and Health Program, enumerated the many health risks of rising greenhouse gases, from direct effects like heat stroke to indirect effects like mental illness, vector-borne disease, and food insecurity—all which are felt to a heightened degree by vulnerable populations, including the poor and those displaced from their homes.
Panelists agreed that the world is largely unprepared for these impacts. With the numbers of migrants and refugees growing, Monette Zard, director of the Program on Forced Migration and Health, said current legal and governance systems are inadequate to handle the projected volume of displaced people. Another problem, according to Matthew Neidel, associate professor in Health Policy and Management, is that our economy does not account for the health costs of greenhouse gas emissions. On the flip side, the transition to a post-carbon economy would not seem so expensive if policymakers accounted for its many benefits such as a reduction in health costs related to air pollution.
To gird against the growing number of climate-related challenges, Mark Bittman, a food policy expert in Health Policy and Management, said agriculture must become more sustainable, in part by paying greater attention to soil health. Diana Hernandez, assistant professor in Sociomedical Sciences and authority on the health dimensions of energy insecurity, said actions should also be taken to provide greater security to low-income communities who face climate-related stresses like excess heat and severe storms. Incentives for green energy and transportation need to be structured to benefit and not harm these communities. A fuel tax in France led to the Yellow Vest protests, many of whose participants are car-dependent, Shaman noted.
Addressing the climate crisis shouldn't have to be a hardship, agreed Micaela Martinez, assistant professor in Environmental Health Sciences. Instead, collective action on the climate can also be a chance to innovate and meet other goals, such as income inequality. "We can all live really wonderful lives without big carbon," she said.
"It's important to remember that [climate change] is both an opportunity and a threat," said Shaman, who is also a professor in Environmental Health Sciences. "If we engage it, we can do things that can promote and improve public health worldwide if we are proactive."
Alumni Honors
Cynthia Cox, MPH '11, director of Health Reform and Private Insurance at the Kaiser Family Foundation, is the recipient of the 2019 Outstanding Recent Alumni Award. A leading authority on the Affordable Care Act, she is the author of more than 50 reports on the ACA's effect on private insurance and enrollees. As an indication of her influence, a paper Cox wrote on healthcare reform is the first reading assigned to all healthcare majors in the Wharton MBA program. She also scripted Kaiser's most-watched video, titled "Health Insurance Explained," an animated short watched close to 400,000 times on YouTube.
In presenting the award at the June Alumni Summit, Carlos Cuevas, MPH '11, chair of the Columbia Mailman Alumni Board, said he has been aware of Cox's talents since their time together as MPH students, noting that she was a TA for several classes and graduated at the top of her cohort in Health Policy and Management. "Since graduating, Cynthia has been very kind and generous to our community," said Cuevas, who cited her interest in advising students interested in positions in healthcare policy.
In accepting the award, Cox recognized several Health Policy and Management professors who she credited with giving her a nuanced understanding of health policy. "I've taken what I learned from your classes and applied it every day in the work I do at KFF," she said. "I'm incredibly grateful for all the support and mentorship and guidance I've had from the Mailman community."