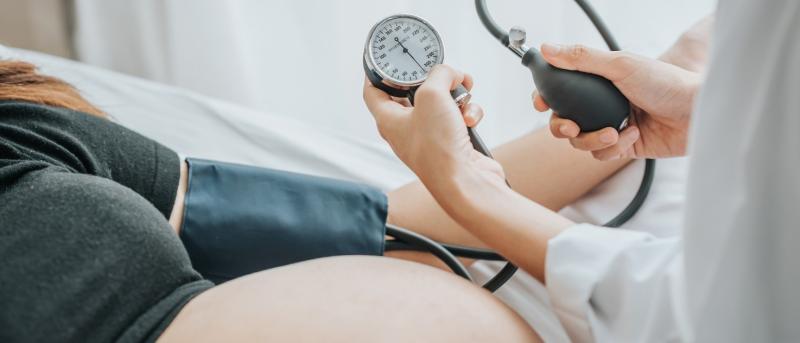 Exposure to Plastics During Pregnancy Can Raise Blood Pressure
In a study of pregnant women, exposure to phthalates, a group of chemicals found in plastics and other household products, was associated with elevated blood pressure during late pregnancy, as well as long-term changes to blood pressure. The study by scientists at Columbia University Mailman School of Public Health is part of their broader findings on the impact of phthalates and cardiometabolic health and the first to examine long-term blood pressure trajectories in relation to phthalate exposure during pregnancy. Findings are published in the journal Environmental Health Perspectives.
Phthalates are ubiquitous in the environment in many consumer and household products, including children's toys and vinyl flooring tiles, as well as scented products like perfumes and air fresheners. Human exposure to phthalates can occur through ingestion, inhalation, and skin absorption. Specific phthalates disrupt the endocrine system, the body's system for regulating hormones, and exposure to these is linked to developmental health problems, including asthma, childhood brain development, IQ, and thyroid function.
The researchers analyzed urine samples collected from 892 pregnant women in Mexico City for concentrations of 9 phthalate compounds. Higher collective exposure to these compounds was associated with elevated blood pressure in the third trimester, as well as an increased likelihood of having unfavorable blood pressure postpartum.
"These findings suggest that exposure to phthalates during pregnancy may have life-long consequences on the blood pressure trajectory, potentially elevating the risk for chronic illnesses later in life, such as hypertension," says first author Haotian Wu, PhD, an associate research scientist in the Department of Environmental Health Sciences at Columbia Mailman School.
In an accompanying editorial, Ivan A. Arenas MD, PhD, Columbia University Division of Cardiology, writes, "the study by Wu and colleagues opens new avenues for research on the role of environmental exposures and blood pressure levels, specifically on the effect of phthalates on pathways regulating blood pressure. The authors used an elegant statistical strategy for the analysis of blood pressure changes after pregnancy in a relatively large cohort of pregnant women. This study provides further evidence that the exposure to synthetic chemicals in food contact materials may result in alterations on cardiovascular function."
In an earlier study of the same group of pregnant women (the PROGRESS cohort—Programming Research in Obesity, Growth, Environment and Social Stressors) researchers found that phthalate exposure during pregnancy may be associated with markers of metabolic health up to eight years post-delivery and that prenatal maternal phthalate exposures and trajectories of excess body fat from 4 to 12 years.
The researchers say the potential biological mechanisms that underlie the associations of phthalate biomarkers and maternal blood pressure are unclear. They say future studies are necessary on potential changes to blood pressure trajectories in early pregnancy, as well as other long-term health consequences. "There is a paucity of research examining phthalate exposures and maternal health, particularly in the years following pregnancy. Our findings suggest that prenatal exposures to phthalates may influence women's cardiometabolic health and will hopefully stimulate future research regarding potential changes to blood pressure, and other risk factors, during early pregnancy, as well as long-term consequences," says Andrea Deierlein, PhD, senior author, and assistant professor of public health nutrition at NYU School of Global Health.
The study was supported by grants from the National Institute of Environmental Health Sciences (ES023474, ES027508, ES021357, ES009089, ES024381, ES023515, ES013744, ES014930, ES028522).  
Study co-authors include Allison Kupsco and Andrea Baccarelli at Columbia Mailman; Allan Just, Alison Sanders, and Robert Wright at Icahn School of Medicine at Mount Sinai; Antonia Calafat at the U.S. Centers for Disease Control and Prevention; Emily Oken at Harvard Medical School; Joseph Braun at Brown University; Adriana Mercado-Garcia, Alejandra Cantoral, and Martha Téllez-Rojo at National Institute of Public Health, Morelos, Mexico; Ivan Pantic, National Institute of Perinatology, Mexico City; and Andrea L. Deierlein, New York University.