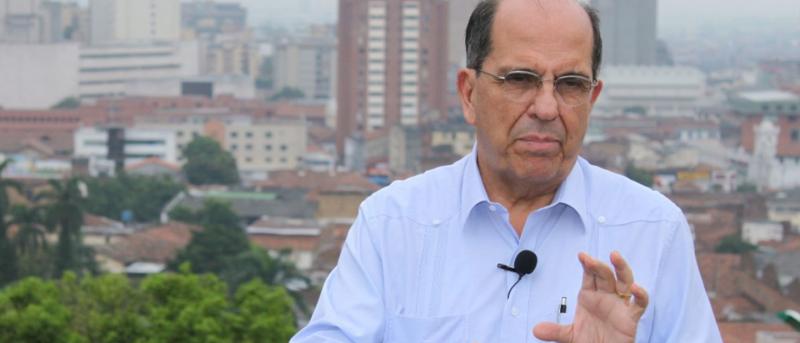 Epidemiologist Saves the City (Twice)
When an epidemic of violence gripped Cali, Colombia, Grand Rounds speaker Rodrigo Guerrero used public health tools to keep the peace
In the early 1990s, Cali, Colombia, was a very dangerous place. On an average day, five people were murdered—about the same number as New York City, but in a city one-fifth its size. As he became mayor of Cali in 1992, Rodrigo Guerrero, like most people, believed the killings were connected with city's infamous drug cartel. But as he is an epidemiologist by training, he knew he needed to look at the data. What he found came as a surprise: two-thirds of homicides took place on the weekend and more than half the people killed were intoxicated.
"We didn't see a reason why drug traffickers would wait until the weekend and get their victims drunk before killing them," deadpans Guerrero, a leading expert in curbing urban violence who will deliver the Dean's Grand Rounds on the Future of Public Health at the Mailman School tomorrow.
As he examined the data, it became clear that violence was sparked by personal conflicts, not organized crime. In response, Mayor Guerrero banned the sale of alcohol after 2 a.m. and restricted weapon-carrying permits in public places on days identified as high-risk, often days related to alcohol consumption.
The policy wasn't popular with nightclub owners or the Colombian military, which controls gun sales, but they couldn't deny the result, which was nearly instantaneous. In only two weeks, hospitals reported fewer homicides, accidents, and injuries. After several months, murders were down more than a third on days when the new rules were in place.
"The beautiful thing about epidemiology and data-driven approach is its neutrality," says Guerrero, who was previously Secretary of Health of Cali and president of the public university, Universidad del Valle. "It shows in the data. If it works, it works."
Cali's success with curbing violence inspired other cities to adopt Guerrero's epidemiological outlook. One of these, the capital city of Bogotá, saw its murder rate drop more than half between 1995 and 2003.
After leaving office, Guerrero joined the Pan American Health Organization in Washington, D.C., where he started the Violence Prevention Program, and helped create VallenPaz, an organization dedicated to fostering economic opportunity for rural Colombians caught up in the crossfire of the conflict, and in drug production. But before too long his city needed him again. By the early 2000s, the Cali's murder rate had crept back up.
Another Round of Violence
Elected mayor for a second time in 2012, Guerrero went back to the data. This time it told a very different story. Killings happened on weekdays and involved sophisticated firearms. Further analysis showed that more than two-thirds of homicides were premeditated and involved criminal gangs. One problem was a police and judicial system that had been weakened by the drug trade. Meanwhile, prisons had become severely overcrowded, losing any capacity to rehabilitate.
The mayor favored a graduated approach to criminal justice. He created a special police unit and judiciary to go after the gangs, balanced with 24-hour courts to adjudicate minor infractions. These policies were bolstered with social investments, with funding for housing, health facilities, and public education. "Youth houses" provided a space for young people to come together around sports and cultural activities and learn new skills. Guerrero's bigger vision: reduce inequality. "All the evidence shows societies that are very unequal are more prone to be violent than those that aren't," he says.
Again, the policies were a success. Cali's murder rate dropped nearly a quarter between 2012 and 2014. And the number of homicides in the first three months of 2015 was less than any other time during the last 12 years.
This kind of progress has attracted notice beyond Colombia's borders. Recently, Guerrero was in Honduras at the invitation of that country's president, Juan Orlando Hernández. Like its neighbors, El Salvador and Guatemala, Honduras has seen a spike in violence many believe connected to organized crime. But every place is unique, Guerrero cautioned the president. His advice: look to the data.
Back in Colombia, officials hope to finally put an end to its five-decade civil war with FARC guerillas, who produced cocaine to fund their insurgency. A preliminary peace agreement was reached in September, and permanent accord is anticipated in March. The issue has been top of mind for Guerrero since leaving the mayoralty at the end of 2015. With his nonprofit VallenPaz, he is working to transition rural farmers from coca to tomatoes, an arrangement he says that could raise their standard of living. 
Without this kind of economic transition, Guerrero stresses, another guerilla group will likely emerge to take the place of FARC. "The basic problem is that peasants in Colombia are isolated and incredibly poor," he says. "Unless we solve the economic and social issues at the root, we will not achieve much."
Attend the Grand Rounds with Rodrigo Guerrero on January 27 at 4:30 pm at Alumni Auditorium, or watch it on LiveStream. Upcoming Grand Rounds lectures, include "The Urban Landscape and Public Health" with Jonathan F.P. Rose and Mitchell J. Silver, on February 17; "Global Health/Health Systems" with Ambassador Deborah Birx, on March 23; and "Encephalopathy, Death, or IQ:   Disparity in Environmental Remediation Response Criteria for Childhood Lead Poisoning in Low- and High-Income Countries" with Ian H. von Lindern, on April 20.