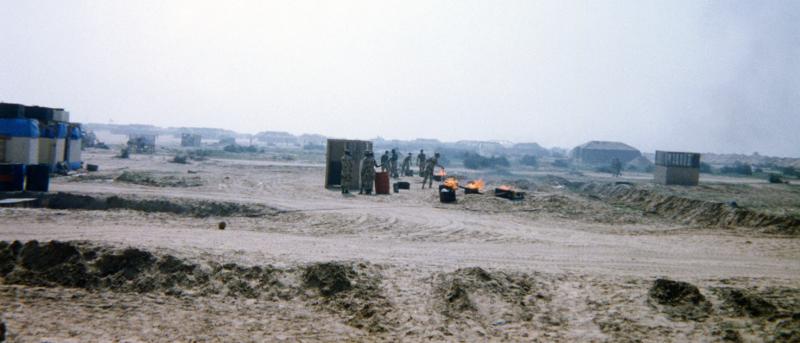 Environmental Health Scientist Named to Effort Examining Military Burn Pits
Marianthi-Anna Kioumourtzoglou, assistant professor of environmental health sciences at Columbia University Mailman School of Public Health, has been appointed to the National Academies of Sciences, Engineering, and Medicine (NASEM) Committee to Reassess the Department of Veterans Affairs Airborne Hazards and Open Burn Pit Registry.
The U.S. military has routinely used burn pits as part of operations in the Persian Gulf region and Afghanistan in the open-air combustion of waste—including plastic, shipping materials, electronic waste, and other material that may emit toxic compounds. More than 3.7 million U.S. service members have participated in operations in the region since 1990. The nine-member NASEM committee will examine scientific evidence on exposure to airborne hazards linked to burn pits.
In response to concerns over possible adverse effects of exposures to emissions from open burn pits used in military operations in the Persian Gulf region and Afghanistan, in 2013, Congress directed the Department of Veterans Affairs to establish and maintain the Airborne Hazards and Open Burn Pit Registry. In 2017, the National Academies published a report that offered an initial assessment of the Registry, analysis of the data collected in the first year, and recommendations for improvements. The task of the newly formed committee is to reassess the Registry five years after the initial assessment.
Kioumourtzolou is trained as an environmental engineer and epidemiologist. Her research focuses on applied statistical issues related to environmental epidemiology, including quantifying and correcting for exposure measurement error, exposure prediction uncertainty propagation, and assessment of high-dimensional and complex exposures in health analyses. Her studies often focus on air pollution exposures, mixtures, on identifying vulnerable sub-populations, and characterizing how risks may vary across neighborhood-level and other urban characteristics, as well as with changing climate.