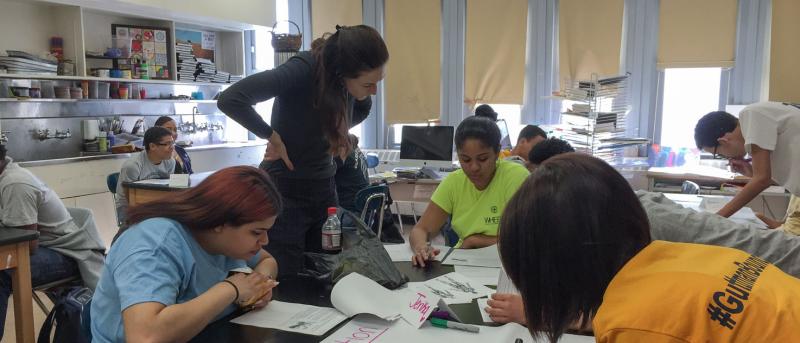 Enacting Environmental Justice and Health Through Education
When I was weighing my options last year on which school to attend, I was looking for someplace with a formal public health education outreach program, or, at least, a school that had strong partnerships with community schools. Neither of these seemed to be true at Mailman, but when I weighed all the strengths of what the School had against what it doesn't have, I decided coming to Columbia would give me the best opportunity to pursue my passion. Even though education oureach was a major factor in my decision, I thought, "It's NYC and I'm self-motivated, I'll figure something out."
When I made it to campus and started exploring, it turned out there actually are numerous opportunities available to students who want to approach public health through education.
As an educator, I want to see more collaboration between teachers and scientists or other public health professionals. While public health has been gaining more exposure over the past few years, it is still a relatively unknown career option—or at least it was to me as a first-generation college student (another reason why outreach is so important).
When I was a science teacher, students would often ask, "Why are we learning this?" or, "What does this have to do with me?" To a teacher, there is almost always a good answer, but students don't often agree. Public health offers a unique opportunity to approach science education, since there is a clear and often meaningful link between theory and practice. Topics like health and justice can be particularly powerful lessons for youth in cities, especially where poor health outcomes can be disproportionately high.
This semester I was the environmental education intern at West Harlem Environmental Action (WE ACT), a community-based organization that aims to build healthy communities and fight for fair environmental health and protection policies and practices. I initially saw a similar internship at WE ACT posted in by the Office of Career Services and really wanted to apply but, the Core kind of wiped me out. Luckily, representatives from WE ACT gave a guest lecture on environmental justice in Prof. Greg Freyer's Environmental Determinants of Health II class, and I introduced myself. I was drawn to their organization because of their environmental justice-driven mission, and thought my background in education was a perfect fit for this internship. I saw the work as an opportunity to realize my vision of a public health approach to science education.
WE ACT partnered with Dr. Jared Fox of Washington Heights Expeditionary Learning School (WHEELS) to bring their Environmental Health and Justice Leadership Training (EHJLT) program into the classroom. Through the EHJLT program, WE ACT aims to provide community members the necessary knowledge and tools needed to organize campaigns or projects for the broader environmental and social justice movement.
My role at WE ACT was to use my experience as both an educator and environmental health scientist to adapt the EHJLT program into a one-week high school environmental science curriculum. The curriculum focuses on nine community health indicators with respect to Washington Heights and Northern Manhattan: food justice, open and green space, climate justice, clean air quality, affordable and equitable transit, healthy indoor environments, toxic-free products, sustainable and equitable land use, and waste, pests, and pesticides.
A number of students at WHEELS were especially interested in our lesson on clean air since many of them had, or knew someone who has, asthma, which has been shown to be higher in largely low-income communities with mostly ethnic and racial minorities. In NYC, the highest rates of asthma can be found in Northern Manhattan and the Bronx. Research by our own Professor Matthew Perzanowski has found associations between cockroach allergen exposure and childhood asthma, as well as interactions combustion byproducts leading to increased risk for asthma.
Now that the students have learned about the nine community health indicators, they are investigating environmental justice issues in their neighborhood. Students will develop actionable projects on their topic and present them at NYU's High School Social Justice Expo on May 8th.
Public health can make education more relevant to young people and also be an important part of the community. Given the inclusivity of public health, it is sometimes shocking how exclusive we can be as Columbia students. Our presence has had cultural and economic impacts on this very neighborhood. It is pertinent that we minimize our impact on gentrification by supporting equitable development or using our skillsets to have a positive effect on the community.
Professors here have connections to schools and community organizations, so ask around your department for local faculty partnerships. Otherwise, you can check out the student organization Greater Community Reach to see what they're up to in the neighborhood.
Most of us will only be in school for a few short years, but Washington Heights is a crucial part of our experience. It is a place where many of us start our careers as public health professionals and develop lasting relationships. While we bring our own unique expertise and experience as public health students, we also come to Mailman with a diverse set of skills, whether it's music, gardening, or community organizing. If you look, you are sure to find a way to give back to Washington Heights.
---
If you would like to contribute to Mailman Student Voices, please send a three to five-sentence pitch outlining your topic to mailmancomm@columbia.edu.