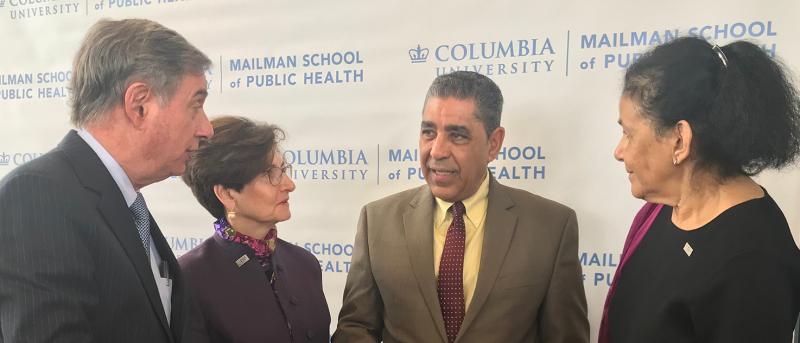 Congressman Affirms Support for ICAP's Global Mission
U.S. Rep. Adriano Espaillat speaks out in support of federal funding for health sciences research, highlighting ICAP's newly extended anti-malaria efforts in Ethiopia
ICAP, the Mailman School-based organization dedicated to fighting infectious disease and strengthening health systems globally, prides itself on working closely with governments and communities around the world. An April 4 press conference at the Mailman School demonstrated that ICAP's global efforts are undergirded by support from elected officials closer to home.
Adriano Espaillat, U.S. Congressman from New York City's 13th District, joined Deans Lee Goldman and Linda P. Fried and ICAP Director Wafaa El-Sadr to announce that after nearly a decade of providing critical support to Ethiopia in its ongoing efforts to combat malaria, ICAP will be raising its level of response through a new five-year, $25 million grant from the U.S. President's Malaria Initiative (PMI) awarded by the U.S. Agency for International Development (USAID).
Proudly acknowledging the high concentration of health sciences research in his district, Congressman Espaillat affirmed his commitment to ensuring continued financing for the health sciences, from research in New York to global programs exemplified by the ICAP effort in Ethiopia. "Together, we will continue our efforts to fight this treatable disease and eliminate malaria once and for all," he said.
His district's interest in global health could also be explained by the highly diverse backgrounds of its residents, whose concerns are international in scope, the congressman explained. "If anything happens anywhere in the world," he joked. "I will get an email about it."
Since 2008, ICAP has been working with Ethiopia's Federal Ministry of Health under PMI to improve the ability of Ethiopian health centers to detect, diagnose, and treat malaria. As a result, the accuracy of diagnosis of malaria has risen from 59 percent in 2011 to 97 percent in 2016. Most importantly, this work has contributed to a notable reduction in annual malaria-related deaths, which have declined from more than 2,000 in 2012 to just 374 in 2017. Yet much work remains.
Each year in Ethiopia, there are 1.5 million cases of malaria, a major cause of suffering and an impediment to development. The good news, said El-Sadr, is that malaria is preventable, treatable, and can be cured. Speaking in the press conference, which was being watched by livestream in Ethiopia, she said, going forward, ICAP will continue to work with the government there to scale-up and strengthen anti-malaria efforts, particularly among vulnerable groups such as pregnant women and children. Moreover, lessons learned in Ethiopia can be applied to other diseases and other regions—even here in New York City where ICAP runs two health clinics.
The continued funding, El-Sadr predicted, will yield "the most coveted of returns: lives saved and the health of communities further improved." Thanks to Congressman Espaillat and other enlightened allies, she said, "we're able to advance a great American tradition of helping other countries improve the health and well-being of their citizens—a path that ultimately leads to a safer, more prosperous, and peaceful world for all."