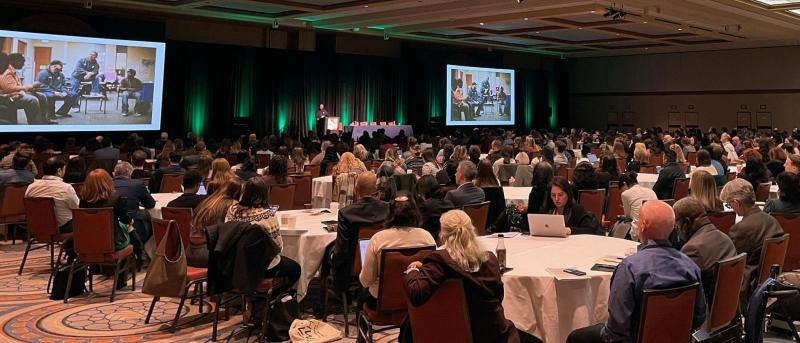 Conference Highlights Latest Findings on Gun Violence Prevention
The second annual National Research Conference for the Prevention of Firearm-Related Harms—the nation's only scientific conference of its kind—showcased the latest research findings in a field that has seen renewed funding in recent years. Over 700 people representing more than 200 institutions attended in-person and could choose from hundreds of presentations across 20 scientific disciplines. Among these were presentations by faculty and students from Columbia University Mailman School of Public Health and Teachers College.
The conference was organized by the new Research Society for the Prevention of Firearm-Related Harms. Sonali Rajan, associate professor in the Department of Health Studies & Applied Educational Psychology at Teachers College and adjunct professor of Epidemiology at Columbia Mailman School of Public Health, is the inaugural president of the Society and led this year's conference. Charles Branas, chair of Epidemiology at Columbia Mailman, serves on the new society's board and co-led last year's conference. Seventeen organizations, from major foundations to universities and healthcare systems,  sponsored this November's conference, including Columbia SURGE (Scientific Union for the Reduction of Gun Violence).
Columbia researchers presented on a variety of topics, including a strategy to reduce access to adolescent means of suicide, the effects of gun violence on attention and learning, the effects of historical structural racism on community firearm violence; housing instability and firearm violence; adverse childhood experiences and violent injury; public housing and firearm violence; heatwaves and firearm violence; street construction projects and firearm violence; and the experiences of Black caregivers of violently injured men.
Ariana Gobaud, a pre-doctoral fellow in the Department of Epidemiology, received the conference's Impact Award for her research on historical structural racism and community firearm violence in 500 US cities. She says of winning the award, "It is not only a recognition of my research but also a reflection of the collective efforts in the field of firearm violence research. I am proud to build on the important work of researchers who have been exploring the significant impact of structural racism in this area. I'm excited to continue this journey, pushing the boundaries of our understanding and developing strategies that can make a real difference in communities affected by firearm violence."
Over three dozen faculty across seven Columbia schools and colleges came together in 2020 to form the Columbia SURGE with a vision that "more science means less violence" and to capitalize on the university's convening power in generating new science and scientists, new resources and recognition, and transformative solutions.  As a key member of SURGE, Sonali Rajan leads the Research Society for the Prevention of Firearm-Related Harms, which was created at the inaugural National Research Conference for the Prevention of Firearm-Related Harms last year. The Society aims to promote and advance scientific research on firearm-related harm prevention across the U.S. and internationally.
Coinciding with the conference, Rajan met with the editorial board of the Washington Post, which on November 3 published an editorial titled, "Even Gun Rights Zealots Might Support These Innovative Ways to Save Lives." The editorial highlights a series of innovative solutions presented at the conference that have the potential to become policy.  It concludes, "The renewal of federal funds for firearms research is worth celebrating in itself. The answers that research provides, meanwhile, could be the starting point for meaningful action that doesn't determine who can own a gun or where they can bring it. Policymakers shouldn't discount these steps because they're modest. They should take them."