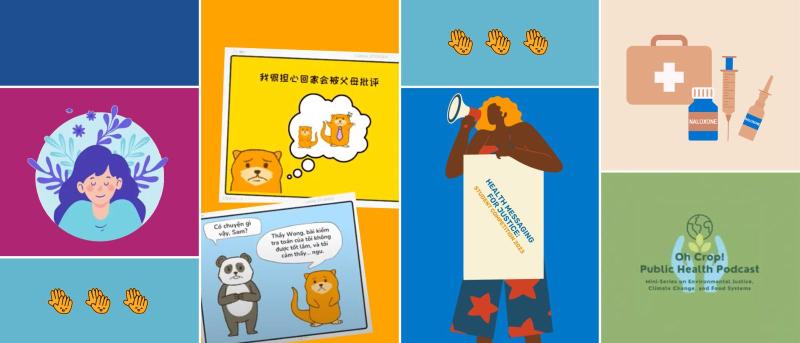 Competition Spotlights Student Health Communications Campaigns
The second annual Health Messaging for Justice Competition invited students from across the School to create public health communications campaigns to reduce stigma, enhance social justice, and fight racism. Submission used a variety of tactics, including social media campaigns, videos, posters, games, podcasts, comic strips, advertisements for public transit, and more.
At an April 7 awards ceremony hosted by the Columbia Mailman Lerner Center for Public Health Promotion, winning teams presented their campaigns. Winners were selected from twelve submissions, with participants representing all six of the School's academic departments.
Two campaigns shared top honors. A team of Riki Eijima (SMS '23), Colette Kirkpatrick (SMS '24), and Xin Rui Ong (HPM '24) created a comic strip for middle schoolers to improve Asian-American mental health. Kat Morgan (EHS '24) created a podcast for public health practitioners on the connections between food systems, environmental justice, and public health.
Morgan called the win an "incredible moment" and said it validated the hard work she put into the project. Explaining her choice of a podcast, she says, "narrative storytelling can be a powerful change-making tool," adding, "podcasting helped me to break down complex systems into easily digestible components." The podcast series called Oh Crop! has two episodes available today, including one with bestselling author and Columbia Mailman lecturer Mark Bittman. Planned future episodes will feature indigenous and BIPOC changemakers in environmental justice.
In second place, Charul Narain (HPM '24), Shree Baphna (HPM '24), and Sakthi Senthilvelan (SMS '24) created a web campaign focused on destigmatizing South Asian American student mental health. Also in second place, Gracie Bagdon (SMS '24), Katherine Kennedy (PopFam '24), Allyson Ty (PopFam '24), and Michelle Zhao (SMS '24) developed a video about Naloxone use for college orientations.
As participants worked on their projects, alumni of the Lerner Center's Health Communications Certificate served as mentors and met with the participants to provide feedback. Twelve judges, including academic and industry experts, assessed submissions based on effective messaging, creativity, design, public health impact, and their potential to achieve their stated goals.
All winners took home cash prizes. They will also have their projects highlighted at the Lerner Center's third annual conference on April 28. The conference's theme this year is Turning the Tide: Combatting Misinformation in Public Health (details about the conference, including how to purchase tickets, can be found here).
"The competition showcased the creative work of our students by highlighting how health communications can be used as a powerful tool to enhance social justice in domestic or global settings," says Gina Wingood, director of the Lerner Center for Health Promotion and professor of sociomedical sciences.