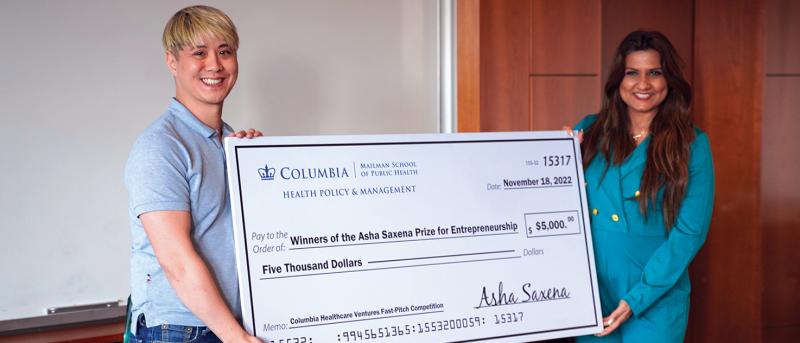 Columbia Student Start-Ups Make Their Pitch for Health
What's your elevator pitch? How will your startup be both a financial success and a boon to public health? This is the assignment of Fast Pitch, a Columbia Mailman-hosted competition open to budding student entrepreneurs across the university.
Organized by the School's Department of Health Policy and Management, the November 18 competition saw 10 teams face-off for the $5,000 Asha Saxena Prize for Entrepreneurship. The winner was Chris Chin, an executive MPH student at Columbia Mailman, and his app to automate peer-support phone calls for people in recovery from substance use disorders.   
The Asha Saxena Prize for Entrepreneurship was envisioned and endowed by its namesake, a successful healthcare entrepreneur and instructor at Columbia Mailman.
"Health care is ready and ripe for entrepreneurship," said Saxena in remarks at the event. "Great companies have come out of Columbia. We are proud of Columbia students who have done amazing work so far and will continue to do amazing work to create something bigger for the world and the community you're in."
Each Fast Pitch team was allotted seven minutes to introduce their startup, explain its value proposition, and walk through the steps necessary to bring it to fruition, from surmounting technological and regulatory hurdles to out-maneuvering the competition. Teams were then peppered with questions by three judges from the world of entrepreneurship and venture capital: Les Funtleyder, a healthcare portfolio manager at E Squared and Columbia Mailman instructor; Maria Forero, senior advisor at Accelmed Partners; and Joseph Habboushe, CEO and co-founder of MDCalc.
Competing team members represented seven schools: Columbia Mailman, Columbia Engineering, Columbia Business School, Physicians & Surgeons, the School of International and Public Affairs (SIPA), Barnard, and Teachers College. All teams were mentored by experts in the field, including many by Columbia alumni behind their own successful startups.
Ideas presented by Fast Pitch teams pointed to the many ways technology is transforming the global health care industry.
Two teams pitched devices to improve patient outcomes: one by monitoring premature babies to allow them to cuddle with their mothers, and another that would allow emergency room clinicians to quickly get a health record by tapping a wristband against a tablet. Others teams are blazing new trails with smartphone technology, including a therapy app to support healthy romantic relationships and an AI algorithm designed to detect vital signs using a camera phone.
Several teams are seeking to improve the aggregation of health data in the U.S. Others had an international focus. Two teams are working to improve public health in India—one by developing a more nutritious therapeutic food packet to prevent malnutrition; another, a platform to provide ranchers with veterinary medicines and other services, in part to reduce the risk of new zoonotic diseases.
Ultimately, the judges picked the winner: Crosstalk Connections. The nonprofit seeks to ease the burden of support phone calls that are a core part of the recovery process in Alcoholics Anonymous. The system automatically connects someone in recovery with a supportive member of their recovery team. The startup's founder, Chris Chin, said his idea was born out of his own discomfort with initiating these phone calls, a trait he shares with many young people. The $5,000 prize will fund the beta-testing of the technology.
"I like to scheme about how technology can do our work for us," said Chin, who has a background in computer science. "People get robo-calls all the time. This is actually a good robo-call."
The Fast Pitch competitions, the first of which took place last spring, are part of a larger move by Columbia Mailman to equip students with the skills to pursue their entrepreneurial ideas.
Over the last 10 years, the School has started offering courses in entrepreneurship, including one taught by Fast Pitch judge Les Funtleyder. In addition, there is Columbia Healthcare Ventures, a Columbia Mailman student club open to graduate students across the university, and the Columbia Startup Lab incubator in SoHo, which has hosted Columbia Mailman alumni. Rebecca Sale, senior director of education in the Department of Health Policy and Management, was a key force in this trend, along with Becca Schoenfeld, assistant director of people engagement and marketing, and Michael Sparer, chair of the Department.
While student entrepreneurism has long been a force across the university, it only recently took root at Columbia Mailman, said Sale. "It feels good that public health is now in the conversation."