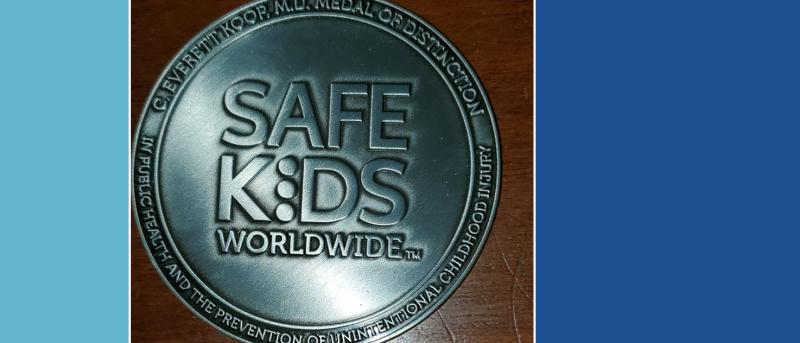 Barbara Barlow Wins C. Everett Koop Medal of Distinction
Barlow Recognized at International Gathering of Safety Professionals for Commitment to Protecting Kids from Preventable Injuries, Number One Cause of Death to Children in the U.S.
Barbara Barlow, MD, Professor Emerita of Surgery in Epidemiology at Columbia University Mailman School of Public Health, co-outreach director of the Columbia University Center for Injury Science and Prevention, and founder and executive director of the Injury Free Coalition for Kids, was recognized with the C. Everett Koop Medal of Distinction at the Safe Kids Worldwide International Childhood Injury Prevention Convention. More than 500 safety professionals around the world gathered virtually at the four-day convention to collaborate on efforts to enhance the safety of children on the road, at home, and at play.
The C. Everett Koop Award recognizes the person who embodies Koop's legacy of fighting for all families and children no matter where they live. 
"Dr. Barlow is a dynamic force, a recognized leader within the childhood injury prevention community, and an inspiration to the entire Safe Kids network," said Torine Creppy, president of Safe Kids Worldwide. "When you have someone who has that rare combination of passion, intelligence, and vision, you have a real chance to make a difference in the world. And that's exactly what Dr. Barlow is doing." 
Barlow's research focused on traumatic injury to children and on injury prevention for the past forty years. Her work to address injuries began with the development of the Harlem Hospital Injury Prevention Program where she led the way to more than a 60 percent drop in Harlem's childhood injury rate.  She has received awards from the American Hospital Association Nova Award, the American Academy of Pediatrics Fellow Achievement Award, the U.S. Department of Transportation Safe Communities Award, the National Highway Traffic Safety Association Lifesavers Award, the National Safety Council and the American Trauma Society Surgeons Award, the National Association of Public Hospitals Award, the American Trauma Society Achievement Award, the American Public Health Association Distinguished Achievement Award, Johnson and Johnson Foundation Leadership Award, Allstate Foundation Safety Leadership Award, the Hospital Association of New York Community Health Award, the American Association of Medical Colleges' David E. Rogers Award, the Foundation for Women in Medicine Renaissance Woman Award, Columbia University Dean's Distinguished Award in Clinical Science, the National Library of Medicine Changing the Face of Medicine recognition, the NY Academy of Medicine Rudin Award, the CDC Foundation National Hero Award, the American College of Surgeons Humanitarian Award, the American Academy of Pediatrics Surgical Section Ladd Medal among others.
C. Everett Koop was a true champion for children and families. He once famously said, "If a disease were killing our children at the rate that unintentional injuries are, the public would be outraged and demand that this killer be stopped." As the founding chairman for Safe Kids, he led the way for the cause of injury prevention and his efforts have saved the lives of countless kids around the world. 
"I am truly humbled by this award," Barlow said. "Dr. Koop is one of my heroes and to be recognized for work he felt was important is an honor.  Working to make a difference in the lives of people who need it most – to be a voice for the voiceless is a privilege." 
Barlow is a former member of the American College of Surgeons Committee on Trauma and the American Academy of Pediatrics Committee on Pediatric Emergency Medicine. She received a BA from Vassar College, an MA in Psychology from Columbia University, and an MD from Albert Einstein College of Medicine where she was elected to Alpha Omega Alpha. Her general surgical training was completed at Bronx Municipal Hospital followed by a Fellowship in Pediatric Surgery at Babies Hospital, Columbia Presbyterian Medical Center. She was then appointed Chief of Pediatric Surgery and later Director of Surgery at Harlem Hospital in New York City.
Preventable injuries are the number one cause of death for children in the United States. Throughout the world, almost one million children die of an injury each year, and almost every one of these tragedies is preventable.
About Safe Kids Worldwide
Safe Kids Worldwide is a nonprofit organization working to protect kids from preventable injuries, the number one cause of death for children in the United States. Safe Kids works with an extensive network of more than 400 coalitions in the U.S. and with partners in more than 30 countries to reduce traffic injuries, drownings, falls, burns, poisonings, and more. Safe Kids also engages in advocacy efforts to make kids safer at the federal, state, and local levels. Since 1988, Safe Kids has helped reduce the U.S. childhood death rate from unintentional injury by nearly 60 percent. Join our effort at safekids.org.