Faculty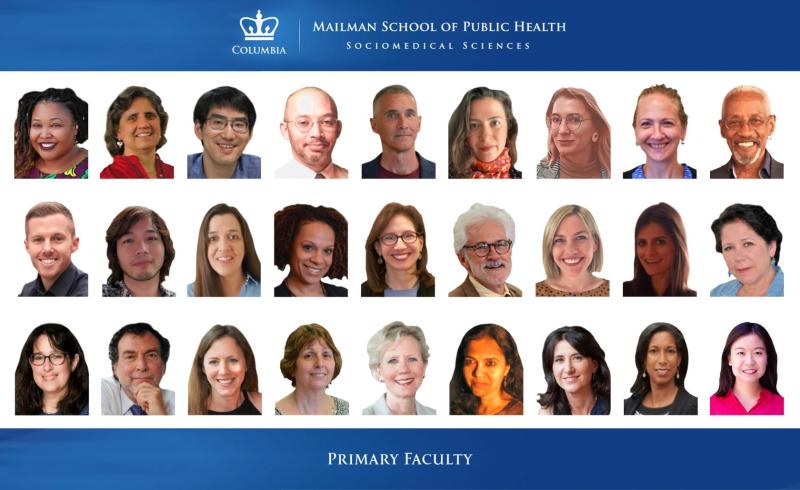 Meet our esteemed faculty whose research demonstrates the breadth and complexity of the sociomedical sciences. A list of all SMS faculty can be found here. 
Primary Sociomedical Sciences Faculty 
Paris "AJ" Adkins-Jackson - Dr. AJ's research investigates the role of structural racism on healthy aging for historically marginalized populations like Black and Pacific Islander communities. Her primary project examines the role of life course adverse community-level policing exposure on psychological well-being, cognitive function, and biological aging for Black and Latinx/a/o older adults. Her secondary project tests the effectiveness of an anti-racist multilevel pre-intervention restorative program to increase community health and institutional trustworthiness through multisector community-engaged partnerships.
---
Angela Aidala - Dr. Aidala's sociological research and expertise cover a wide breadth of subjects including research design and methods, community programs and outreach, homelessness, poverty, HIV/AIDS, mental health, incarceration and recidivism, and urban health to name a few. She is the principal investigator of the Community Health Advisory & Information Network (CHAIN) Project, an ongoing study of persons living with HIV or at high risk of infection in New York City. 
---
Merlin Chowkwanyun - Dr. Chowkwanyun centers his research on community health, biostatistical methods, environmental health, healthcare policy, and history and ethics, focusing on regulation, racial inequality, and social movements around health. He is also the PI (co-PI David Rosner) on a recent National Science Foundation Standard Research Grant for ToxicDocs.org, a depository of millions of pages of once-secret documents on industrial poisons. 
---
Alwyn Cohall - Dr. Cohall's main areas of research interest include adolescent health, reproductive health, violence, access to healthcare, particularly for young men of color, and health communication/health promotion. He is the director of Project Stay (Services to Assist Youth), a New York State Department of Health-funded program that provides confidential health services to young people affected by or infected with HIV/AIDS. 
---
James Colgrove - Dr. Colgrove examines the relationship between individual rights and the collective well-being as well as the social, political, and legal process through which public health policies have been mediated in American history. His general research topics include healthcare policy, history and ethics, and infectious disease. 
---
Melissa DuPont-Reyes- Dr. DuPont-Reyes is trained as a psychiatric and social epidemiologist. Dr. DuPont-Reyes is an interdisciplinary public health scholar that centers her research on issues of health equity in population mental health among young and diverse populations. Her research seeks to understand how early prevention of mental illness stigma among adolescent populations may help reduce disparities in mental health care access and utilization later in the life course. Her current projects address three important issues in mental illness stigma research: (1) the development and testing of low-dose, high-reach mental health anti-stigma interventions via school mental health education and mass media (including U.S.-basesd Spanish language media), (2) evaluation of mental illness stigma across intersectional social identities, and (3) advancing theory related to adolescent mental health help-seeking and familial transmission of mental health help-seeking.
---
Jessie Ford- Dr. Jessie Ford is a sociologist whose research explores how expectations around gender and sexuality shape sexual health, violence and pleasure. Dr. Ford's work brings a fresh perspective to sexual health by deploying insights from the sociology of culture and studies of gender inequality. Her most recent project examines how multi-level factors, including structural stigma and gender inequality, impact rates of sexual assault and hazardous drinking among bisexual women. Dr. Ford's work also explores the importance of sexual pleasure—an often overlooked and stigmatized dimension of sexual health and human rights—and advocates for its inclusion in public health policy, program implementation and clinical practice.
---
Julie Franks- Dr. Franks is a technical specialist at ICAP with expertise in HIV prevention, particularly among key populations heavily impacted by HIV. Her research in the United States and sub- Saharan Africa focuses on improving access to effective prevention services for gender and sexual minority groups and sex workers. She is a founding member of ICAP's Harlem Prevention Center, which conducts research on HIV and COVID- 19 prevention. Dr. Franks holds a PhD in history from the State University of New York at Stony Brook.
---
Robert Fullilove - Dr. Fullilove is the Associate Dean for Community and Minority Affairs, Professor of Clinical Sociomedical Sciences and the co-director of the Cities Research Group. He has authored numerous articles in the area of minority health., publishing on topics like community health, HIV/AIDS, substance dependence, and urban health. Since 2010, he has been teaching public health courses in six New York State prisons that are part of the Bard College Prison Initiative (BPI) and serves as the Senior Advisor to BPI's public health program.  
---
Daniel Giovenco - Dr. Giovenco is a behavioral scientist whose research uses geographical information systems, field data collection, and survey data to identify social and environmental determinants of tobacco use disparities. His specific areas of interest include the marketing of alternative tobacco products in diverse communities, the public health implications of tobacco harm reduction, and the co-use of marijuana and tobacco. 
---
Christian Gloria- Dr. Gloria is an Associate Professor of Sociomedical Sciences at Columbia University Irving Medical Center, a Visiting Scientist of Mental Health for the Philippine Council for Health Research & Development, and a Visiting Professor for several public health institutions across the Republic of the Philippines (viz., Angeles University Foundation, Ateno de Manila University, De La Salle University, Silliman University, University of San Agustin, University of the Assumption, and University of the Philippines Manila). Dr. Gloria's latest research examines the protective and resilience factors that enable people to adapt, grow, and thrive against chronic stress and adversity.   
---
Lauren Gooden - Dr. Gooden's main areas of research interest include HIV and HCV testing, prevention and treatment, and access to care, particularly among people who use substances. She is the Director of Columbia's Sociomedical Sciences Miami Research Center located in Miami, FL, which is a remote research team based on the University of Miami medical campus.
---
Diana Hernandez - Dr. Hernandez focuses her work on the social and environmental determinants of health by querying the impacts of policy and place-based interventions on the health and socioeconomic well-being of vulnerable populations. Her community-oriented research examines the intersections between the built environment (housing and neighborhoods), poverty/equity, and health with an emphasis on energy insecurity. Her projects relate to structural interventions in low-income housing (i.e. energy efficiency upgrades, fuel source conversions, smoke-free housing, and capital improvement models in public housing) or otherwise related to alleviating the consequences of poverty on health.
---
Jennifer Hirsch - Dr. Hirsch's research spans five intertwined domains: the anthropology of love, gender, sexuality and migration; sexual, reproductive, and HIV risk practices, social scientific research on sexual assault, and undergraduate well-being, and the intersections between anthropology and public health. Along with Dr. Claude Ann Mellins, Hirsch co-directs the Sexual Health Initiative to Foster Transformation (SHIFT), a study supported by Columbia University that examines sexual health and sexual assault among Columbia and Barnard undergraduates. 
---
Kim Hopper -  Dr. Hopper is a medical anthropologist who has done ethnographic and historical research on psychiatric care and on homelessness, chiefly in New York CIty. His research interests include the fate of reforms in public mental health, terms and conditions of collaborative research, and prospects for reconciliation between ex-patients and their professional caretakers. For the last 10 years, he has also taught in the Bard Prison Initiative. 
---
Kate Lovero - Dr. Lovero's research aims to improve the prevention and treatment of adolescent mental health problems in low-resource settings, focusing particularly on low- and middle-income countries (LMIC). Her work employs multilevel stakeholder enagagement and implementation science methods to generate health care delivery models that address the complex drivers of health inequity. Currently, she collaborates with the Mozambican Ministry of Health to develop adolecent mental health services integrated within the national primary care system. 
---
Carrigan Parish - Dr. Parish is a special needs dentist specializing in access to oral health care for medically compromised and underserved individuals, including those who are HIV-positive. She also has a strong research interest in prescription drug abuse in the dental setting and is currently working on a NIDA-funded study assessing dentists' stigma towards patients who use drugs. 
---
Margaret Pereyra - Dr. Pereyra is an Associate Research Scientist with research interests in health services, maternal and child health, HIV/AIDS, international health, research methods and applied biostatistics. She is based at the Sociomedical Sciences Miami Research Center in Miami, FL, and has collaborated on studies that have examined strategies to increase HIV testing, reduce HIV transmission, and increase the engagement of PLWHA in HIV primary care. Margaret received her Dr.P.H. from UCLA in 2003 in Community Health Sciences with a minor in Epidemiology. Dr. Pereyra's most recent publications use Women's Interagency HIV Study data to examine the intersection of dental insurance, dental care utilization and the perceived unmet dental needs in women living with HIV. 
---
Lisa Rosen-Metsch - Dr. Rosen-Metsch is currently the Dean of the School of General Studies. Dr. Metsch's landmark research has helped to shape national policy and intervention programs. Her recent study findings on the value of integrating HIV testing in substance use treatment programs were the basis for the Substance Abuse Mental Health Services Administration (SAMHSA) and the National Institute on Drug Abuse (NIDA) to develop an HIV awareness toolkit for substance use treatment providers. Dr. Metsch's current work focuses on developing innovative strategies to increase the uptake of testing, linkage, retention, and re-engagement in care among vulnerable populations.
---
David Rosner - Dr. Rosner focuses on the intersection of public health, social history, and the politics of occupational disease and industrial pollution. He has been actively involved in lawsuits on behalf of cities, states, and communities nationally who are trying to hold the lead industry accountable for past acts that have resulted in tremendous damage to America's children. Cases aimed at removing lead from children's environments, compensating parents, and governmental agencies for the costs of care and abatement of hazards in the home environment have grown out of his academic work. His work on the history of industry and the harms done of industrial toxins has aided in lawsuits on behalf of asbestos workers and silicosis victims as well.
---
Rachel Shelton - Dr. Shelton is a social and behavioral scientist with training in cancer prevention/control and expertise in implementation science, sustainability, health equity, and community-engaged research. She is a principal investigator of a Research Scholar Grant for Health Equity focused on advancing the understanding of the sustainability of lay health advisor programs in under-resourced community settings. She also collaborates on a grant focused on social stressors and resources related to behavioral and epigenetic aging processes. 
---
Karolynn Siegel - Dr. Siegel research primarily focuses on examining the adaptive tasks that individuals living with life-threatening or chronic illness confront and the coping strategies they use in an effort to master these challenges. She is also an active researcher in the areas of bereavement and caregiving. 
---
Kathleen J. Sikkema - Dr. Sikkema conducts community-based intervention research focused on HIV prevention and mental health treatment in the U.S. and in low and middle-income countries. She is a clinical psychologist who specializes in health and community psychology. Dr. Sikkema has led pioneering scholarship in global mental health, specifically related to traumatic stress, coping, and gender violence.
---
Kavita Sivaramakrishnan - Dr. Sivaramakrishnan specializes in issues around aging and the elderly, global health, public health history and ethics, as well as infectious disease. She works closely with the South Asia Institute, the Institute of Social and Economic Research Policy, and the Public Health Foundation of India in New Delhi.  
---
Marni Sommer - Dr. Sommer has worked in global health and development on issues ranging from improving access to essential medicines to humanitarian relief in conflict settings including adolescents participatory research, promoting healthy transitions to adulthood, gender, sexual health, and the implementation of adolescent-focused interventions. Dr. Sommer leads the Gender, Adolescent Transitions, and Environment (GATE) Program. GATE generates research and practical resources focused on improving the integration of menstrual hygiene management and gender supportive sanitation solutions into humanitarian responses.
---
Gina Wingood - Dr. Wingood is a distinguished researcher and academic leader in the health promotion field, with decades of expertise designing and evaluating interventions that reduce health disparities in HIV. he has received international acclaim for her research on social determinants of health and was previously featured in Science as a highly-funded African American NIH grant recipient. Dr. Wingood's Sisters Informing Sisters about Topics in AIDS (SISTA) intervention, as well as five other HIV prevention interventions, have been endorsed by the CDC and implemented widely across the country.
---
Yuan Zhang - Assistant Professor of Sociomedical Sciences (in the Robert N. Butler Columbia Aging Center). Yuan Zhang's research examines how social factors across different life stages influence aging-related outcomes, with an emphasis on populations in less economically developed countries. She also studies population health trends to uncover how disease burden, dementia, and mortality are unfolding in the population, and how they are linked to other structural changes such as increasing education.