Staff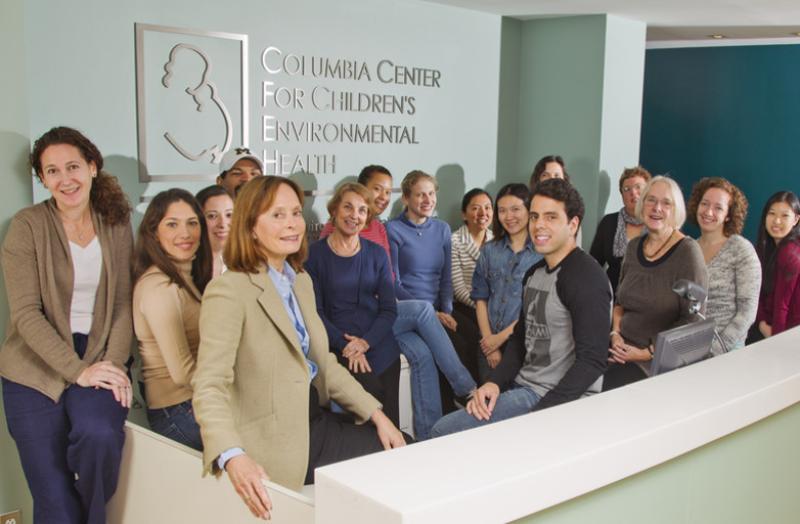 Molly A. Algermissen, PhD, Program Manager
Gladys Badia, MA, Senior Research Coordinator
Gladys is currently the Senior Research Coordinator for the Mothers and Newborns Study. She began working as a teenager at the age of 17 at the Center for Educational and Psychological Services (CEPS) at Teachers College, Columbia University. While working at Teachers College she was studying full time at John Jay College of Criminal Justice pursuing a Bachelor's Degree in Criminology. At age 19, she began working for the Mothers and Newborns Study at the Columbia Center for Children's Environmental Health as a Research Technician. She assisted research workers with administration of questionnaires and escorted participants to hospital facilities for biological sample collections and other medical visits. In 2008, she was promoted to a full time Research Assistant. As a Research Assistant, she follows, establishes rapport, and retains a caseload of 175 participants of the minority population.
Herlinda Bermejo, Fair Start Research Assistant
Herlinda joins the CCCEH Fair Start and ECHO Study team as a Research Assistant, in August 2023. She is a graduate of CUNY Baruch College with a B.A in Biology and Psychology, as well as a minor in English. Before joining the center, she worked at the NYP Hospital as a clinical research coordinator with the OPTOS study, recruiting participants to obtain retinal imaging during different trimesters. Having previously worked in the beauty industry, she is especially interested in learning more about these chemicals and their effects on pregnant women and children's health.
Lehyla Calero, MA, Senior Project Coordinator 
Lehyla Calero is the Senior Project Coordinator of the Fair Start Study at the Columbia Center for Children Environmental Health at Columbia University and Trainer Ambassador for the ECHO Program (Environmental Influences on Child Health Outcomes), a program supported by the NIH.
In this position, Lehyla provides program management, coordinates quality samples collection and other training-related workforce activities, and dissemination efforts. She also oversees the developmental assessments on study participants and provides support to parents of young children with developmental and behavioral challenges.
She is passionate about understanding how the experiences that infants, toddlers, and pregnant women have can affect lifelong outcomes. She also believes that the science of child development and the capabilities of resilient adults point to a set of principles that policymakers and practitioners in many different sectors can use to improve outcomes for children and families globally.
Prior to joining the CCCEH, she worked at United Nations Environmental Program and represented the UNEP/NYO office in the 62nd General Assembly. She also worked as a Program Officer at Wildlife Conservation Society. Lehyla holds a Bachelor of Science degree in Ecology from Fundación Universitaria de Popayán, Colombia and a Master's degree in Environmental Health from New York University.
Anabel Cole, MS, MPH, Officer of Research, Community Outreach and Research Translation Core (COTC)
Mrs. Cole has worked in the non-profit sector promoting the health and wellness of her community for more than a decade. She is passionate about working to reduce health disparities and believes that efforts at changing behavior and shaping policy are most effective when the community affected plays an active role in identifying their needs and public health concerns. Through her work with the Community Outreach and Translation Core she aims to increase the community's involvement with environmental justice issues and their knowledge about the effects of hazardous environmental exposures on child health and development.  She holds a Bachelor of Business Administration in Marketing Management from Baruch College, a Master of Science degree in Nonprofit Management from the New School for Public Engagement and a Master of Public Health from Columbia University.
Borris Cortes, Staff Associate
Boris Cortes, holds a medical degree from the Dominican Republic and his nursing degree from U.S.A. affiliate, EDP University of Puerto Rico. He is am member of the Fair Start team and is at delivery collecting biospecimens. He also conducts the perinatal visit and the four- and six- month visits with our study participants. He is passionate about helping other medical professionals from Latin America and other international regions to access training and resources to apply their medical training in the United States, including tutoring for the United States Medical Licensing Exam® (USMLE). He is a member of the Dominican Medical Association in New York.
Diurka Diaz, MA, Senior Officer of Research, Mothers and Newborns Study
Diurka is a passionate community researcher, advocate and spokes person of the Latino community. With over 25 years of experience in the health care field, Ms. Diaz combines a unique background in health care management, early childhood development and research experience. Ms. Diaz is a graduate of the City University of New York, City College and earned a Master's degree in Human Development from Teacher's College, Columbia University.
Ashley Gonzalez, Fair Start Research Assistant
Ashley is a Full Spectrum Doula and spiritual herbalism apprentice supporting BlPOC families throughout NYC. She creates harmonious environments and practices evidence-based and ancestral comfort measures in hospital settings. This balance allows the birthing person to receive an authentic and safe experience often missing in maternal care. Ms. González joined the CCCEH Fair Study team in September 2022 and has a bachelor's degree in International Criminal Justice from John Jay College. 
Matthew Gutierrez, Technician A
Matthew is a Research/Field Technician. He coordinates office visits, administers questionnaires and conducts home visits. Matthew is bilingual in English and Spanish. He works on both the Fair Start and CREW, (Children's Respiratory and Environmental Workgroup) studies. His close work with the participating families allows for the collection of data to better understand how early life environmental exposures and host factors interact to promote the development of specific asthma endotypes. 
Maria de Jesus Hernandez Garcia, Fair Start Research Assistant
Maria de Jesus (Marichuy) joined the CCCEH Fair Start Study team as a Research Assistant, in February 2022. She is a recent graduate from the University of California, Davis and holds a B.S. in Community and Regional Development and a minor in Chicano/a Studies. Before joining the Center she worked in Sacramento, California  as a Community Health Leader (CHL). As a CHL, she primarily worked with the Spanish-speaking community in Yolo County and the Mexican Consulate's Ventanilla de Salud.  
Darrell Holmes, Senior Technician
Darrell Holmes, conducts prenatal and all home visits with the Fair Start team. A CCCEH veteran, he started his work with the Center's first study, the  Mothers and Newborns cohort. His work at the Center has taken him as far as Ghana, West Africa where he supported a team of researchers assessing air pollution from indoor stoves. In addition to his extensive support in research, he is the go-to person when it comes to Center operations, he always kindly assists in all matters, from frantic, "why can't I see my zoom meeting," to all computer set-up and management.
Kat Lau, MS, Project Coordinator
Kat Lau works as Project Coordinator, assisting Dr. Frederica Perera with research on children's health, climate change, and air pollution. She received her Master of Science in Toxicology from Columbia University Mailman School of Public Health, and she is passionate about social justice and equity.
Adriana Meade, Research Assistant
Adriana  joined CCCEH in June 2022 as a Study Technician, she works collecting bio-specimens and coordinating data for CREW and ECHO studies.  She is originally from Quito, Ecuador, where she earned her MD degree. During her time in medical school, she grew a passion for research. This led her to Barcelona, Spain, where she earned her Master's in Medical Clinical Research. Since then, she strives to expand her knowledge to help support those around her, including her coworkers, patients, and families. She believes service is part of her path and always tries to teach that "healthcare starts with self-care." For these reasons, she is very passionate about Zhiheng qigong and yoga.  She loves to learn new things.  She speaks three languages,  Spanish, Portuguese, and English. If you see her around, she will always give you a smile in all three languages.
Judyth Ramirez-Carvey, BS, Project Coordinator
In 1998, Judyth (Judy) joined the Columbia Center for Children's Environmental Health as a Research Assistant. She is one of the original members of the research team who collaborated to recruit over 700 participants for the Mothers and Newborns Study from local OB/GYN clinics in Upper Manhattan and Harlem.In 2003, Judy left the Center to further pursue her education in professional photography and later returned to the Center in 2009. Judy is currently a project coordinator for several studies at the Center including the ECHO Crew study. 
Ornela Sierra-Torres
Ornela is a dedicated and passionate educator and bilingual crisis counselor who transitioned into the role of Research Assistant for the Fair Start Study at Columbia Center for Children Environmental Health in September 2023. With a background as a Crisis Text-Line Counselor for the Crisis Text Line Not-for-profit organization, Ornela provided crucial crisis care to individuals through an online platform. Her experience as a Science Teacher with the Union City Board of Education further underscores her devotion to science and community outreach. Ornela's educational journey includes a Master of Science in Human Biology from the University of Saint Joseph, complemented by a certificate in emerging infectious diseases. Additionally, she holds a Bachelor of Science in Biology from Saint Peter's University, solidifying her foundation in the sciences. Ornela Sierra-Torres brings a wealth of experience, a robust educational background, and a deep commitment to advancing scientific research in her new role as a Research Assistant.
Catherine M. Tobon, Research Worker
Catherine joined the Center in November 2008 as a Research Assistant for the Sibling-Hermanos Study. In 2015, after the birth of her daughter, Catherine left CCCEH and returned to the Center in 2019. She currently works on the Sibling-Hermanos and Fair Start Studies. Her primary responsibilities include the management of a large caseload of study participants enrolled in a longitudinal community-based research study.  She's involved in many phases of the project, which include screening participants, interviewing study participants both in their homes and at the Center (in either English or Spanish), organizing environmental monitoring and biospecimen collections, and administering various psychological instruments to assess the growth and neurodevelopment of children over time. Prior to joining CCCEH, Catherine worked for the NYU Child Study Center in the Department of Child and Adolescent Psychiatry. She worked at NYU for three years, initially as a research assistant and later promoted to a health educator on a large-scale NIH funded asthma study for adolescents and their caregivers.
Maricela Ureño, MPH, Coordinator, Community Outreach and Translation Core, (COTC)
Trained as a community organizer by legendary father and son team Fred Jr., and Fred Sr., mentor to the late Cesar Chavez; she has dedicated her lifeswork to social justice and public health programs.  She has a MPH from Columbia University Population and Family Health and has extensive experience working domestically and internationally on community based programs.  She is a former CCCEH, COTC Community Advisory and Stakeholder Board member and is committed to reducing disparities to ensure the health and well being of children and families.
Kylie Wheelock, MPH, Program Coordinator
Kylie provides operational support for the Environmental influences on Child Health Outcomes study. Prior to joining the Center, she held internships at the Environmental Protection Agency Region 2 office and International Well Building Institute. She holds a BS in environmental science and technology from the University of Maryland, College Park, an MPH in environmental health sciences from Columbia University and is currently in the DrPH program in environmental health sciences at the Columbia University Mailman School of Public Health.