Featured Media Coverage
May 15, 2020 Context is Crucial in Discussion of COVID Disparities
As news reports highlight the devastating impact of COVID-19 in communities of color, including elevated rates of severe illness and death, Columbia Mailman School experts say more attention should be paid to factors that give rise to those outcomes.
During a May 7 media briefing, Professors Diana Hernandez, Markus Hilpert, and Micaela Martinez explained that high rates of COVID-19 in communities of color is a consequence of health disparities related to race, location, and socioeconomic status. Hernandez and Hilpert presented similar information on COVID-19 disparities as part of testimony to the New York City Council. (Watch a video of the media briefing).
May 12, 2020 Grocery Depot Brings Increased Traffic to the South Bronx
The 2018 opening of a FreshDirect warehouse in Mott Haven, Bronx, significantly increased truck and vehicle flow within that neighborhood, leading to small upticks in air and noise pollution, according to a new study led by scientists at Columbia University Mailman School of Public Health. Results are published in the International Journal of Environmental Research and Public Health.
May 5, 2020: Endless Summer Puts Homebound Kids at Risk for Weight Gain
"What is very apparent from the data is that kids experience unhealthy weight gain during the summer, that it's more so for African-American and Hispanic kids, and that the weight gain that occurs during the summer does not get worked off during the school year," said Dr. Rundle, an associate professor of epidemiology at the Columbia University Mailman School of Public Health. "It's a stepwise pattern where the summer is the step up and the school year is the flat part of the step."
Apr 10, 2020: National Institute of Environmental Health Sciences Honors Dr. Frederica Perera
The National Institute of Environmental Health Sciences named Frederica Perera, DrPH, PhD, professor of environmental health sciences at Columbia Mailman School of Public Health, recipient of the 19th Annual Spirit Lecture Award. Established in 2002, the award recognizes highly respected, outstanding women of notable achievement. Dr. Perera was honored for her research efforts in biomarker development in cancer and the role of the environment in fetal development and children's health as well as her extensive community outreach, health advocacy efforts, and dedication to mentoring the next generation of scientists.
January 15, 2020: Mix of Stress and Air Pollution May Lead to Cognitive Difficulties in Children
Children with elevated exposure to early life stress in the home and elevated prenatal exposure to air pollution exhibited heightened symptoms of attention and thought problems, according to researchers at Columbia University Mailman School of Public Health and Columbia Psychiatry. Early life stress is common in youth from disadvantaged backgrounds who also often live in areas with greater exposure to air pollution.
January 6, 2020: Plasticizers May Contribute to Motor Control Problems in Girls
Scientists at the Columbia Center for Children's Environmental Health (CCCEH) have uncovered a link between prenatal exposure to phthalates—a ubiquitous group of plasticizers and odor-enhancing chemicals—and deficits in motor function in girls. Phthalates are widely used in consumer products from plastic toys to household building materials to shampoos and are thought to disrupt endocrine function, and possibly interfere with brain development in utero.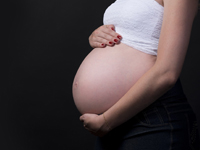 December 23, 2019: Moms' Obesity in Pregnancy Is Linked to Lag in Sons' Development and IQ
A mother's obesity in pregnancy can affect her child's development years down the road, according to researchers who found lagging motor skills in preschoolers and lower IQ in middle childhood for boys whose mothers were severely overweight while pregnant.
Dec 12, 2019: Study Highlights High Cost of Fossil Fuel Pollution on Children's Health
A new study by researchers at the Columbia Center for Children's Environmental Health (CCCEH) at Columbia Mailman School of Public Health is the first to compile the estimated per-case costs of six childhood health conditions linked to air pollution—estimates that can be incorporated into benefits assessments of air pollution regulations and climate change mitigation policies.
More Releases
Media Archives