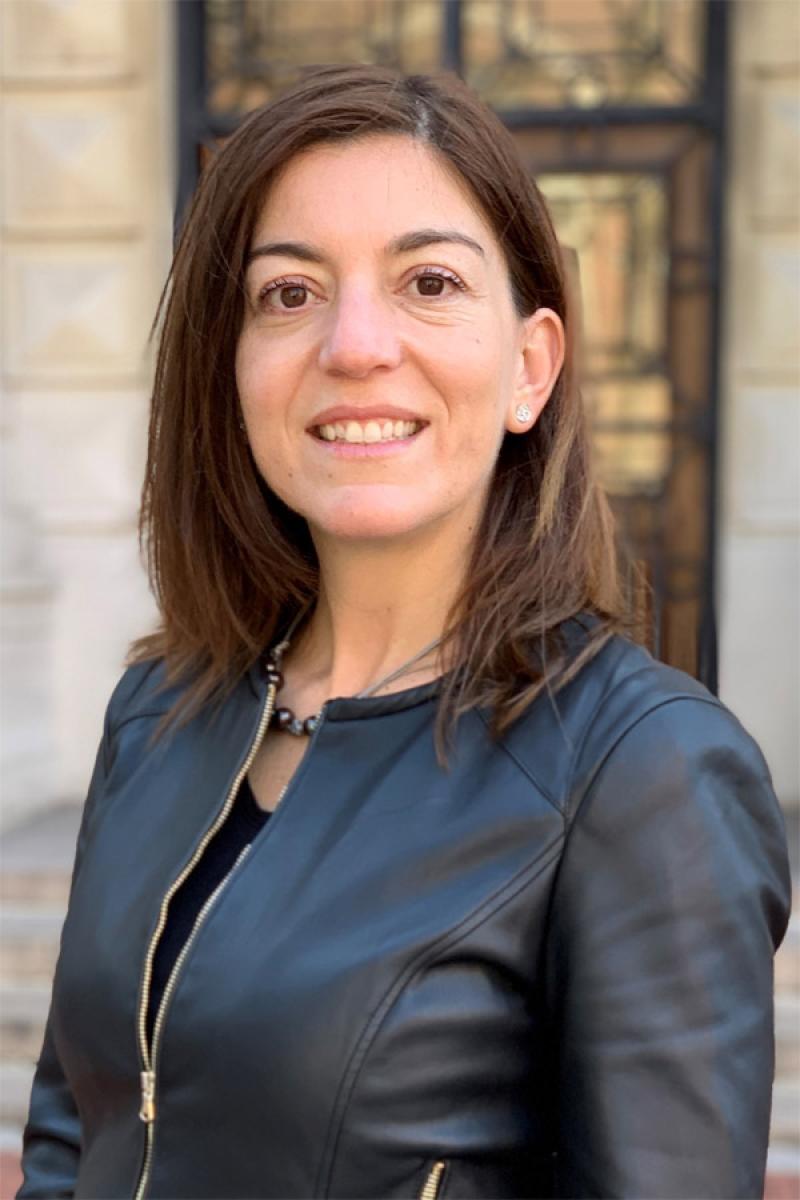 Overview
Academic Appointments
Assistant Professor of Epidemiology (in ICAP)
Administrative Titles
Deputy Director, Strategic Information Unit, ICAP
Credentials & Experience
Education & Training
PhD, 2009 University of Barcelona
MPH, 2009 Columbia University
Research
We need strong surveillance systems to identify gaps in services among key and vulnerable populations.
Selected Publications
Maria Lahuerta, Allison Zerbe, Rachel Baggaley, Joana Falcao, Laurence Ahoua, Pietro DiMattei, Fernando Morales, Isaias Ramiro, Ramadane Sumara, Wafaa M. El-Sadr. Feasibility, acceptability and adherence with short term PrEP in female sexual partners of migrant miners in Mozambique. JAIDS. 2017 Dec 1;76(4):343-347
Maria Lahuerta, Padmaja Patnaik, Tako Ballo, Nouhoum Telly, Justin Knox, Bouyagui Traore, Seydou Doumbia, Avi Hakim. HIV Prevalence and Related Risk Factors in Men who Have Sex with Men in Bamako, Mali: Findings from a bio-behavioral survey using respondent-driven sampling. AIDS & Behavior. May 2017. PMID: 28516378
Maria Lahuerta, Yingfeng Wu, Susie Hoffman, Batya Elul, Sarah Gorrell Kulkarni, Robert Remien, Wafaa El Sadr, and Denis Nash. Advanced HIV disease at entry into HIV care and ART initiation in the maintenance phase of HIV treatment scale-up in 4 sub-Saharan African Countries. Clinical Infection Diseases 2014 Feb;58(3):432-41
Maria Lahuerta, Gilbert Tene, Veronicah Mugisha, Leonard Kayonde, Ribakare Muhayimpundu, J.P. Nyemazi, Greet Vandebriel, Sabin Nsanzimana, Ruben Sahabo, Peter Twyman, Elaine J. Abrams. High retention among HIV pediatric patients in Rwanda during scale-up and decentralization of HIV care and treatment programs. Pediatric Journal of Infectious Diseases. 2013 Feb 12.
Maria Lahuerta, Frances Ue, Susie Hoffman, Batya Elul, Sarah Gorrell Kulkarni, Yingfeng Wu, Harriet Nuwagaba-Biribonwoha, Robert Remien, Wafaa El Sadr, and Denis Nash. The problem of late ART initiation in sub-Saharan Africa: a transient aspect of scale-up or a long-term phenomenon? Journal of Health Care for the Poor and Undeserved 2013 Feb; 24(1).
Maria Lahuerta, Josue Lima, Harriet Nuwagaba-Biribonwoha, Mie Okamura, Maria Fernanda Alvim, Rufino Fernandes, Americo Assan, David Hoos, Batya Elul, Wafaa M. El-Sadr, and Denis Nash. Factors associated with late antiretroviral therapy initiation among adults in Mozambique. PloS One 2012 May; 7(5): e37125
Maria Lahuerta, Josue Lima, Batya Elul, Mie Okamura, Maria Fernanda Alvim, Harriet Nuwagaba-Birinbonwoha, Deborah Horowitz, Rufino Fernandes, Americo Assan, Elaine J. Abrams, Wafaa M. El-Sadr, and Denis Nash. Patients enrolled in HIV care in Mozambique: Baseline characteristics and follow-up outcomes. JAIDS 2011 Nov 1;58(3):e75-86.
Maria Lahuerta, Meritxell Sabido, Federica Giardina, Gabriela Hernandez, Juan Fernando Palacios, Rudy Ortiz, Victor Hugo Fernandez, Jordi Casabona. Comparison of users of an HIV/syphilis screening community-based mobile van and traditional voluntary counselling and testing sites in Guatemala. Sexually Transmitted Infection Journal 2011 Mar;87(2):136-40
Maria Lahuerta, Roberta Sutton, Anthony Mansaray, Oliver Eleeza, Brigette Gleason, Adewale Akinjeji, Mohamed F Jalloh, Mame Toure, Getachew Kassa, Steven R Meshnick, Molly Deutsch-Feldman, Lauren Parmley, Michael Friedman, Samuel Juana Smith, Miriam Rabkin, Laura Steinhardt. Evaluation of health system readiness and coverage of intermittent preventive treatment of malaria in infants (IPTi) in Kambia district to inform national scale-up in Sierra Leone. Malar J 2021 Feb 6;20(1):74. doi: 10.1186/s12936-021-03615-3.
Maria Lahuerta, Maureen Syowai, Shobha Vakil, Jacob Odhiambo, Mwenda Gitonga, Nandita Sugandhi, Stanslaus Odhiambo, Maureen Kimani, Joyce Wamicwe, James Batuka, Evans Imbuki, Kigen Bartilol, Elaine J Abrams. Monitoring the Transition to New Antiretroviral Treatment Regimens Through an Enhanced Data System in Kenya. PLoS One 2020 Apr 23;15(4):e0232104.
Global Health Activities
https://icap.columbia.edu/news-events/with-new-global-health-security-in...'>Global Health Security, Democratic Republic of Congo: In focused efforts to strengthen the country's public health system, ICAP is supporting the Ebola and COVID-19 response by enhancing health facility capacity to prevention, detect and respond to infectious disease outbreaks. Specific interventions include efforts to strengthen DRC's national laboratory system as well as the provision of technical support in the implementation of IPC measures across the country's health system at the national, provincial, and facility levels.
https://icap.columbia.edu/news-events/icap-to-help-zambia-improve-hiv-su...'>HIV Surveillance among Key Populations, Zambia: With funding from CDC, ICAP at Columbia University is working with the National AIDS Council of Zambia, the Tropical Disease Research Council, and community-based organizations to strengthen Zambia's HIV/STI surveillance systems in order to understand the HIV epidemic among these key populations. By conducting regular bio-behavioral surveys (IBBS), ICAP and its partners are gathering data on HIV/STI prevalence and risk behaviors, as well as the size of these key populations, to support strategic planning for increasing access and utilization of HIV-related services.