Community Seminars
Our Moment: Mailman School Community Seminars in a Time of Pandemic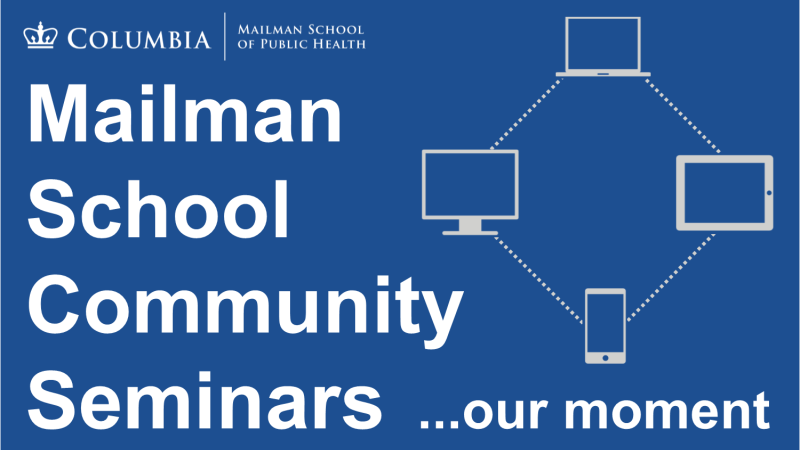 This series of virtual community events, focusing on our current moment, will illuminate the importance and urgency of our educational mission and the practice of public health and bring to bear the experience and expertise in our community. Students will have opportunities to engage in dialogue with university officials, subject matter experts and their peers as we learn how to take what we know and put it into action.
Our Moment: Job Search in a Time of Pandemic
April 10, 2020, 11:30 A.M. TO 12:30 P.M. EST
Location: Zoom 
In this third event of the series, Heather Krasna, MS, Assistant Dean of Career Services at Columbia University Mailman School of Public Health, a career coach with 21+ years' experience and author of two job search books (and forthcoming co-author of the third edition of 101+ Careers in Public Health), will share feedback from Columbia Mailman School employers, findings from preliminary surveys and discussions with employers, and actionable advice to help manage your career in a time of pandemic.
Dean Krasna will be joined by 4 experts:
Dr. Angela Beck, PhD, is a Clinical Assistant Professor in the Department of Health Behavior and Health Education at the University of Michigan, and Director of the Behavioral Health Workforce Research Center and the Region V Public Health Training Center. and a leading expert on public health workforce research.
Dr. Katarzyna Czabanowska,  MA, PhD, dr habil. FFPH, is Associate professor at the International Health Department, Maastricht University, the Netherlands, Fellow through Distinction of the UK Faculty of Public Health, past President of the Association of the Schools of Public Health in the European region (ASPHER) and Chair of the EUPHA Working Group on Public Health Leadership, Deputy Chair of the Council for the Development of Human Resources for Public Health at the National Institute of Public Health in Warsaw.  She serves as a WHO expert in the area of Public Health Leadership and public health workforce development and planning.
Steven L. Reynolds, MPH, is the deputy director of CDC's Center for State, Tribal, Local, and Territorial Support (CSTLTS). Mr. Reynolds oversees day-to-day office operations including budget, personnel, program management, policy, and communications. As a strong advocate for state and local public health, Mr. Reynolds comes to CSTLTS with a distinguished record for forging collaborations with public health partners nationwide. He has nearly 31 years of federal service, first with the US Air Force and then with CDC since 1992. He brings to this role a broad range of public health experience working in local and state health departments in Chicago, Illinois; Baton Rouge, Louisiana; and Houston, Texas.
Kathleen Sherwin, MBA, is Chief Operating Officer of Women Deliver, and previously advisor to such organizations as The Center for Reproductive Rights, Planned Parenthood Federation of America (PPFA), Girls Write Now, Acumen, The Corkery Group, and Global Health Strategies, including overseeing Talent functions and directly advising PPFA President, Cecile Richards.
Christina Brown, MPH leads Clinical Analytics at Healthfirst.  She's passionate about using data to improve the lives of New Yorkers and getting it into the hands of Healthfirst's doctors, nurses and social workers to connect with our members on.  She's an accountant - turned data nerd and public health enthusiast (Mailman '13 MPH alum), and is obsessed with her dog Hemingway.  Prior to joining Healthfirst in 2013, Christina worked at PwC and Citibank.
Previous Event: Racism, Xenophobia/Sinophobia & Covid-19
Racism, Xenophobia/Sinophobia & Covid-19
March 27, 2020
12:15 P.M. TO 1:00 P.M. EST
Dr. Raygine DiAquoi, Assistant Dean of Diversity Culture and Inclusion will host a faculty panel discussion this Friday, March 27 at 12:15 p.m. on Racism, Xenophobia/Sinophobia & Covid-19. This interactive panel, including Dr. Bob Fullilove and Dr. Merlin Chowkwanyun will accept live questions from viewers; participation is strongly encouraged.
Raygine DiAquoi, EdD (moderator)
Assistant Dean of Diversity, Culture, and Inclusion
Assistant Professor of Sociomedical Sciences
Columbia University Mailman School of Public Health
Robert Fullilove, EdD
Professor of Sociomedical Sciences
Associate Dean of Community and Minority Affairs
Columbia University Mailman School of Public Health
Merlin Chowkwanyun, PhD, MPH
Donald H. Gemson Assistant Professor of Sociomedical Sciences
Columbia University Mailman School of Public Health
Previous Event: Global Attention Shifts to Public Health
Our Moment: Global Attention Shifts to Public Health
April 3, 2020
11:30 A.M. TO 12:30 P.M. EST
In this first event of the series, Dr. Wafaa El-Sadr, a veteran of the HIV, tuberculosis and Ebola epidemics of the past decades, will share lessons learned from previous outbreaks and discuss the importance of your public health education and experiences. She will be joined by a panel of members from the Mailman community to provide updates and to share what is happening with the COVID-19 Student Service Corps (CSSC) and the incredible student response.
Read: Atlantic Article by Ed Yong How the Pandemic Will End
Consider this quote from the article: "Perhaps the nation will learn that preparedness isn't just about masks, vaccines, and tests, but also about fair labor policies and a stable and equal health-care system. Perhaps it will appreciate that health-care workers and public health specialists compose America's social immune system, and that this system has been suppressed…The consequences of defending public health agencies, losing expertise, and stretching hospitals are no longer manifesting as angry opinion pieces, but as faltering lungs… After COVID-19, attention may shift to public health. Expect to see a spike in funding for virology and vaccinology, a surge in students applying to public health programs, and a more domestic production of medical supplies…Anthony Fauci is now a household name." 
Julie Kornfeld, PhD, MPH
Vice Dean for Education
Associate Professor of Epidemiology
Wafaa El-Sadr, MD, MPH, MPA
Professor of Epidemiology and Medicine
Director of ICAP
Roxanne Russell, PhD
Director of Online Education
Marina Catallozzi, MD, MSCE
Associate Professor of Population and Family Health and Pediatrics
Stephanie Grilo, PhD
Postdoctoral Research Scientist, Heilbrunn Department of Population and Family Health
Andrew Goulian
Current Student, General Public Health