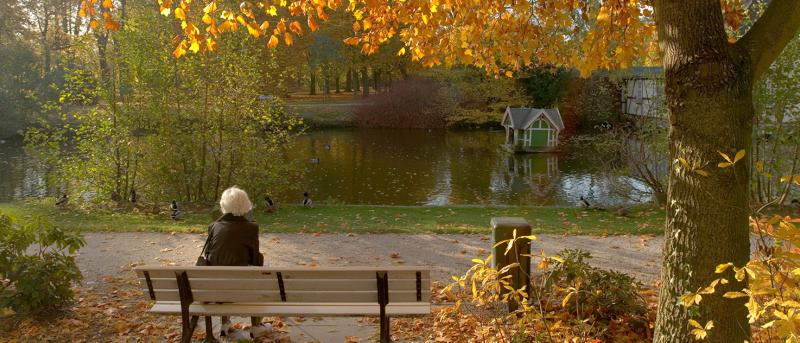 Older Adults Face an Epidemic of Loneliness
Like many older people in the workforce, Stanley Weiss had no concrete plans for retirement, and he continued practicing law into his mid-80s, even as his wife's health deteriorated. His best friend, a university professor, served as a cautionary tale: retired, widowed, and living alone, his friend retreated from the world. "I watched my friends who had become widowed and were just waiting to die," Weiss said. He recognized that he had to find a new way to live after retirement or face a similar fate.
As many songs about loneliness attest, it's only human to feel lonely. Among older adults, however, loneliness is epidemic. According to an AARP survey, one in three Americans age 50 to 80 reports feeling lonely. Research shows that loneliness and isolation can have far-reaching health consequences: Lonely seniors are more likely than their non-lonely peers to be sick and die prematurely. By one estimate, loneliness can be as unhealthy as smoking cigarettes.
"Too often loneliness and social isolation are brushed aside as an inevitable part of aging, not the serious but potentially preventable issue they are," says Linda P. Fried, dean of the Columbia Mailman School and a respected authority on healthy aging. "This problem isn't just the story of isolated individuals, but a confluence of social circumstances that result in pushing our seniors to the periphery of society."
Over the last year, Dean Fried has taken this message to colleagues in the U.S. and beyond, presenting at the International Loneliness Symposium in Belfast, Ireland, as well as a National Academy of Sciences, Engineering, and Medicine committee on the subject. Following the Belfast meeting, she was asked to chair of the International Loneliness and Isolation Knowledge Network, which gathers international academics, researchers, non-governmental organizations and charities to share the latest research, evidence, policy, and practice in this area. In the spring of 2020, the Robert N. Butler Columbia Aging Center will host an Age Boom Academy focused on loneliness among older adults, to brief journalists about research on the subject.
It's not difficult to understand why life as an older person can be lonely. After retirement, some seniors struggle to fill their days with meaningful activities. If they are a caregiver for a spouse or they themselves live with a disability, they might have difficulty maintaining friendships and connections. At the same time, older people's circle of intimates often shrinks as family and friends die. Ageist attitudes also play a role: in our highly age-segregated society, some of the loneliness reported by seniors results from negative views of older adults and feelings of loss of status. Furthermore, housing that fails to foster connections can exacerbate the problem.  
A growing body of research documents the health hazards of loneliness and isolation, which extend from declining mental health and physical well-being to impaired memory and cognition—and even death. Lonely elders are also more vulnerable to abuse and less likely to get the help they need, whether that is medical attention or social benefits like food assistance.
To address the epidemic at scale, Fried, who is a founding member of a Gerontological Society of America interest group on loneliness and social isolation, advocates for a new social infrastructure with attention to designing solutions to address the social needs of seniors and the needs for intergenerational connection. For example, senior housing could be designed to foster connection, community, and activity. Co-housing communities place young families near older adults who can act as surrogate grandparents, or enable a student to rent a room in an older adult's home.
A similar model can be found in the intergenerational tutoring program Experience Corps, which Dean Fried developed in the 1990s; today the program is available in 21 U.S. cities. She created the model in part to address one dimension of loneliness: the need to be a contributor to the public good and have a role in a community with meaning and purpose. Experience Corps was designed to demonstrate that older adult volunteers could bring valuable social capital to support the school success of children in public elementary schools—to offer impactful roles that embed older adults in a community of purpose, and new social networks. Fried's study of the program's performance found children served by Experience Corps are more successful academically than their peers, and the program supports an improved school environment. Meanwhile, older adults benefit by feeling more connected to their community and valued for their knowledge; they sense they are contributing to the future.
"As we live increasingly longer lives, it's crucial that we redesign our world to better value older adults and create opportunities for purpose and belonging," says Fried. "Doing so benefits people of all ages."
In the years leading up to the death of his wife, Stanley Weiss saw his social life disappear, as his small group of close friends died. But before he retired at age 86, he found a way to reinvent himself. "I decided I didn't want to be like my friends vegetating and unhappy and bemoaning their fate." Overcoming what he describes as an innate resistance to socialization, Weiss forged a new connection to his community through Bloomingdale Aging in Place (BAiP), an all-volunteer organization on Manhattan's Upper West Side whose numerous member-driven activities are coordinated in part by Caitlin Hawke who also serves as senior science and strategy officer at the Robert N. Butler Columbia Aging Center based at Columbia Mailman.
Weiss took his first steps with BAiP as a member of one of its walking group. From there, he joined groups dedicated to reading fiction and cooking together. He leads his own group within BAiP, coordinating volunteers to work with local high schoolers at the neighborhood youth hostel where seniors and students cook international meals together. Weiss is also a member of BAiP's Neighbor to Neighbor effort, helping to check in on elderly people who are less mobile and need company or help with a visit to the doctor. Weiss, now 89, has a housekeeper who joins him for dinner every night, and he's in regular contact with his son. "I am not alone," he says.